As is often the case in home remodels, misfortune can be the catalyst for positive change. When our recent client's basement flooded, they decided not just to repair the damage but rather to take the opportunity to update and expand their space to house their hobbies and design the perfect place to relax after a long day. We're excited to share the finished product of our basement remodel in Libertyville, IL, with you.
The Walk-Through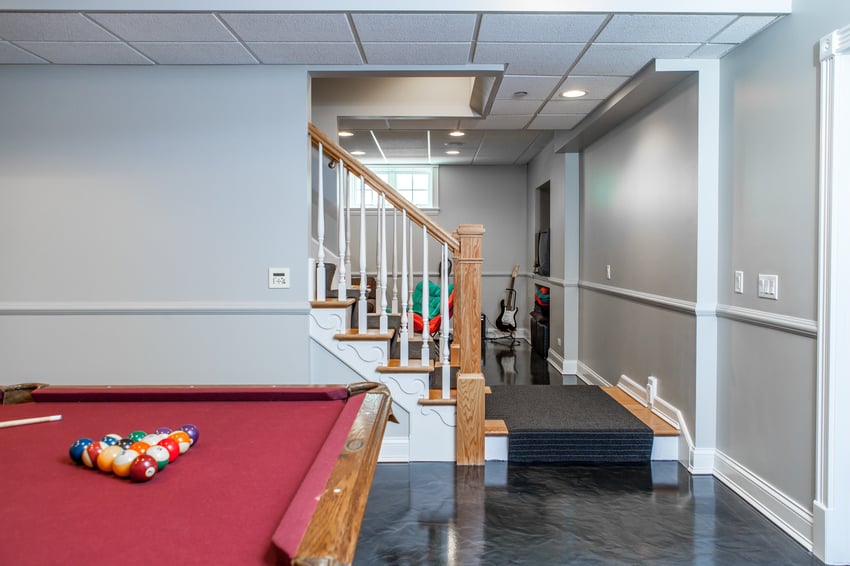 When you reach the bottom of the stairwell, you can either turn right into the main family room or left into the exercise room and hang-out room. If you turn right, you'll have access to a spacious and open living area featuring a pool table, a bathroom, a wet bar, and a large fireplace.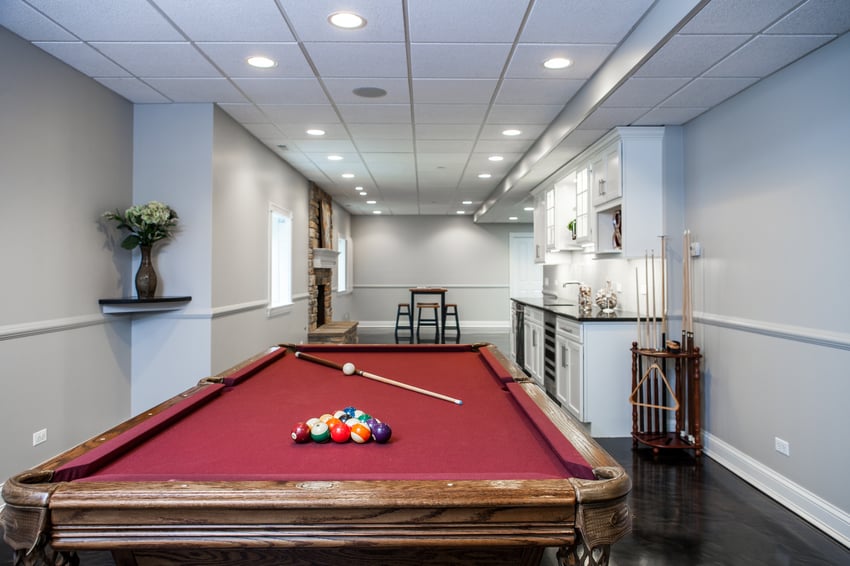 This family area flows without interruption into a large TV room with several storage closets, and the TV room in turn leads back into the exercise room with an adjacent hang-out room with a new A/V system. The entire structure forms a complete loop with an open floor plan that keeps the overall design accessible and airy while still designating rooms for specific purposes.
The Exercise Room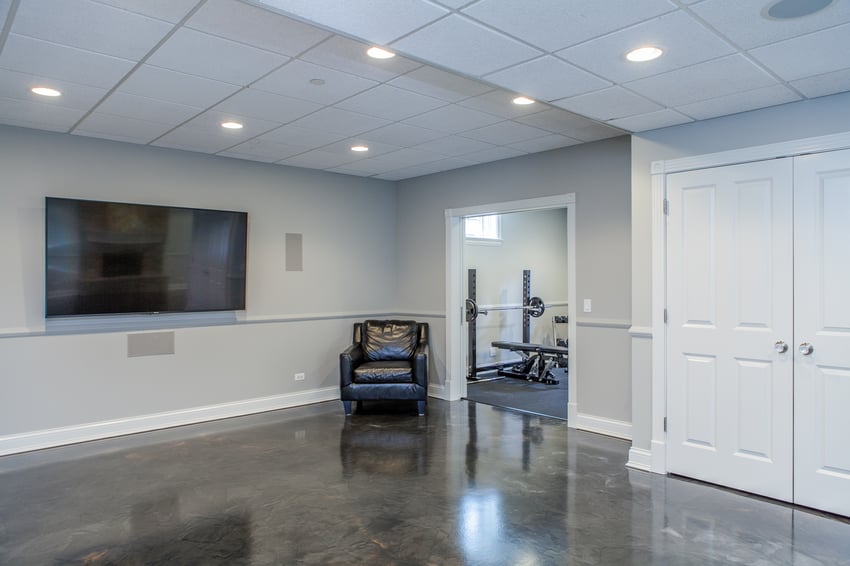 With two large doorways and wide high windows, the home exercise room welcomes plenty of light while also generating air flow. The straight-cut gym flooring anchors the machines, protects the flooring beneath, and provides padding for comfort while exercising. The functionality of the materials, however, don't compromise the basement's high-end appearance, which is maintained throughout by the beautiful trim work running the length of all floors, windows, doorways, and walls.
The Wet Bar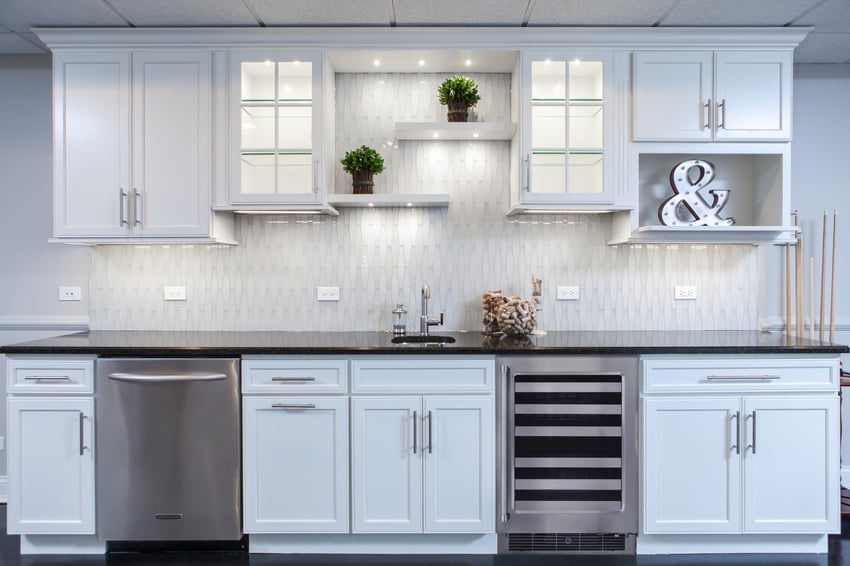 After the homeowners hit up the indoor gym for a full-body workout, they can take a quick rinse in the downstairs shower before making their way to the pool room to kick back and enjoy the wet bar with its wine refrigerator, prep sink incorporated into the granite countertop, ample storage, sleek, customized tile backsplash, and interiorly-lit glass cabinets. After they fix a drink and play a round of pool, the comfortable hang-out room awaits with its high-end A/V system.
Keeping It Bright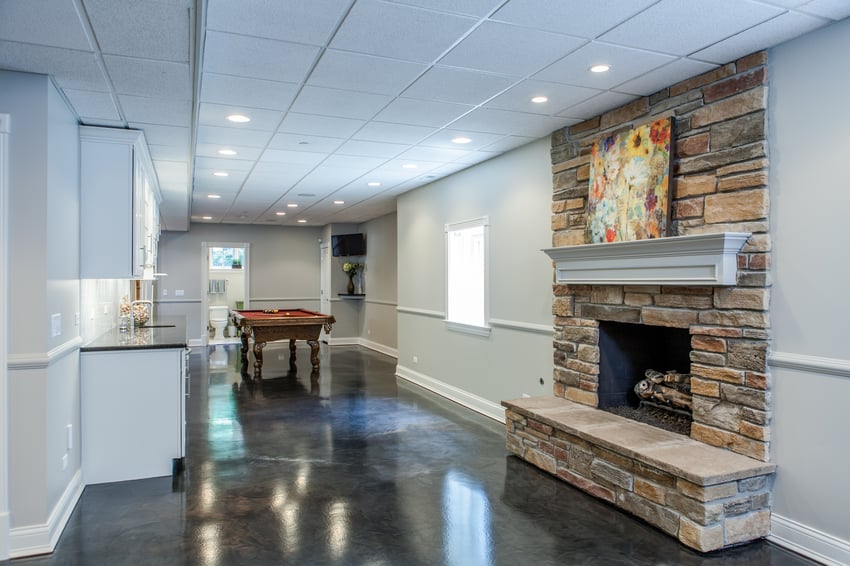 The number one challenge of remodeling a basement is ensuring that the finished product is light, bright, open, and airy. We accomplished these objectives in this basement remodel in Libertyville by implementing several design tricks.
First, we consciously strove to keep the overall floorplan beautifully open and the ceilings raised to increase roominess. Next, we installed several wide windows in every room to introduce natural light from every direction during every hour of the day. We also painted all walls bright white or light gray and paired recessed runway ceiling lights with a high-gloss, epoxy floor to reflect all other sources of light.
Closing Thoughts
If you would like to take the opportunity to increase your home's usable square footage by remodeling and updating your basement to accommodate your family's needs, contact us for a consultation. We'll be happy to assist you in ideating and implementing design ideas to match your space and desires.