In the 20-plus years that I've been working in home construction in the Chicago area, I've noticed that many area residents find a home they really like. The location is ideal for them and the basic structure of the house is great. It's almost perfect. They really like the home, but they don't love it because there are elements throughout the house that either don't meet their needs or don't match their sense of style. Perhaps that sounds familiar to you. If that's the case, how do you go about planning your North Shore whole home remodel so that you end up with a home you love?
Some homeowners like the idea of updating and remodeling their home one step at a time. They're not in a hurry and they feel less overwhelmed by the process. Others prefer to tackle everything at once. It reduces the disruption to a one-time event, and when they're done, they feel like they have a whole new home!
That kind of result, however, doesn't just happen on its own. It's a big undertaking that requires some significant thought and planning, but the BDS process makes it seamless. Let's take a look at some of the essential elements you'll want to keep in mind if you're considering a whole home remodel.
When using a Design Build Remodeler for a whole home renovation, the planning stage is crucial - but painless. Beyond Googling "remodeling costs in Chicago," most North Shore homeowners don't know all the steps involved in planning for a successful whole home remodel.
In this stage, you will work closely with a Design Build Team who will focus solely on your home - from start to finish. You will review design tastes, budget, size, layouts, finishes, and the overall goal of your whole home renovation. At the end of the day, what matters is that you are comfortable throughout the whole remodeling process and that you get the home of your dreams. Proper planning sets the foundation for a successful project.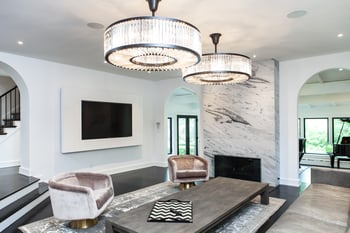 whole home remodeling Design
Any significant remodeling project depends on a thorough assessment of your needs and desires and the developing of a great design to deliver those results. You'll want to meet with a professional who will understand what you want—and know how to pass that information onto the craftsmen who will be doing the work. There are no "one-size-fits-all" remodeling plans that will deliver exactly what you need.
Whole home remodeling is a wonderful opportunity to update dated homes, make challenging layouts flow better, and to improve the lives of a family. There are endless ways to begin your design dreams, but here are a few questions to consider before meeting with a design build team:
Do I want my whole home to have a common design theme?
What rooms matter most when it comes to spending the budget efficiently on design?
For some home addition inspiration, check out a couple of our recent projects:
Featured Project - Libertyville Whole Home Remodel
Project - Poppy House Renovation
Process
What is the process for a whole home remodel? At BDS we follow what's referred to as the Design/Build approach to creating your whole home remodel. In short, it means that the individuals remodeling your home are a division of the same team as the individuals who design your space. Design build remodeling is a seamless process designed around ensuring that the homeowner is always at ease. Learn why Chicagans are choosing design build more and more every day. Everybody is on the same page. The designer isn't going to create a design that the builders can't build. That can lead to a better result because important details don't fall between the cracks. It can also reduce the amount of time needed to complete your project. You'll know your final costs going into the project.
Cost
A whole home renovation has countless benefits, including having your entire dream home all at once rather than room by room. Another benefit is that it will not only take less time to achieve your dream home, but it could also cost less in the end than by slowly remodeling your home in a gradual process. Estimating cost is impossible until we start a conversation around size, materials, timing, finishes, and more.
But, for starters, let's dive into a few helpful resources around the cost of specific renovations:
Budgeting for your whole home remodel
While you have to know the cost of a whole home renovation to consider one, you have to have a reasonable budget and an actionable plan to afford the renovation to get started. But what does that actually mean?
Budgeting often means considering all of your options. What is the goal for the renovation? Is it more important to touch every room in your home or to focus on a few that really need some TLC? Working closely with a design build remodeler can help make all these conversations and considerations feel entirely seamless. Working with a team means that the focus is on finding the perfect solution to you rather than simply passing a baton on to the next team. At BDS, we know that a whole home renovation is about the journey just as much as the outcome, and we are here to be your guide on this journey!
Contractor Selection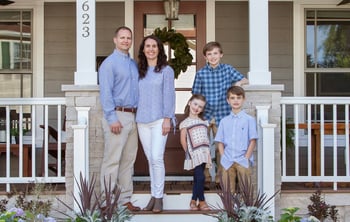 With a whole home remodel, the contractor you work with is just as important as the design, the materials, and the cost of the project. You'll want to work with someone with whom you're comfortable. It's essential that you deal with someone who listens to you and understands what you want—and can pass that information on to the individuals doing the actual work. If you don't have that kind of relationship, it can make the remodeling process stressful.
It's one thing to acknowledge the importance of choosing the right remodeling contractor. But how do you actually go about finding one you feel confident using? What are the key things to look for? This post walks you through some key steps in finding a North Shore home remodeling company you can trust.
At BDS we take pride in listening to our clients and then meeting their specific needs. The relationships and the trust we build with our clients is what keeps them coming back to us for additional projects.
Whole Home Remodeling by Room
Once you agree on the BDS design build process, you'll be ready to dig into the specifics of the process. Let's take a brief look at some of the major components most North Shore homeowners consider when they undertake a remodel of the whole house.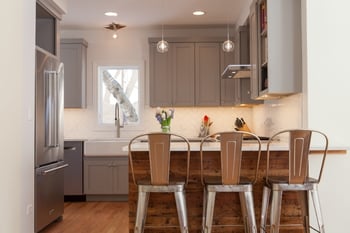 Kitchen
The kitchen is generally considered the heart and soul of your home, and accordingly it often tops the list for remodeling. This process is much more than merely a "face-lift." That's particularly true if you live in an older North Shore home. Kitchens used to be isolated at the back of the home—out of sight for guests and visitors. These days, the kitchen is often the focal point of the home, and it's highly visible (thanks to the popularity of open floor plans). That means you'll want to take other rooms into consideration (specifically your dining area and your family room) when you remodel the kitchen. Also, if you're going to remodel your kitchen, you'll want to make it as convenient and efficient as possible. That means paying close attention to the layout of the kitchen. Here's a helpful article that provides insight into creating the ideal kitchen layout.

Project - Contemporary Whole Home Remodel in Libertyville
Bathroom
Another important area that sees lots of use is the bathroom. Your master bathroom is a very personal space that plays an important role when you get ready for your day—or when you are in the process of winding down for the evening. You want it to be comfortable, convenient, and relaxing. Your guest bathroom (or powder room) is a room that your guests will see and use frequently. You'll want it to be welcoming and enticing (even if guests only spend small amounts of time there). As important as both kinds of bathrooms are, many homeowners overlook key elements that can make them great. Here's a post that looks at how to avoid the 8 biggest bathroom-remodeling mistakes.
Project - Interior Renovation in Glencoe
Project - Whole Home Renovation in Third Lake
Master Suite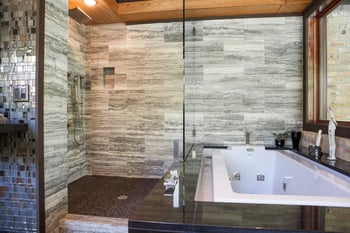 Your Master Suite should be a place of peace, tranquility, and rest. Achieving that requires more than just making sure you have a great bed. You'll want to pay attention to lighting (including natural lighting), layout, built-in amenities, and storage. A remodel of your Master Suite allows you to include features such as ample walk-in closets and even a sitting area for quiet reading or listening to music.
Project - Home Renovation in Barrington
Project - Master Suite Renovation in Libertyville
Additions
Sometimes maximizing the efficiency of the space you have will meet your needs. There are times, however, when the only way to get what you really want and need is to add additional space. There's more involved in that process than simply adding square footage. You'll want to make sure that your addition blends perfectly with the rest of your home (The example below is a demonstration of how to make that happen). Of course, you'll want to budget appropriately for any addition you consider. Here's a look at typical home addition costs in the North Shore area so you have at least an idea of what to expect. To help you plan an addition, take a look at five things you need to know before you begin.
Project - Contemporary Whole Home Remodel & Addition in Libertyville
Project - Addition & Transitional Whole Home Remodel in Libertyville
There are definitely some advantages to taking on a whole home remodel—not least of which is ending up with what's essentially a brand new home. It is an involved process and you'll want to be well prepared before you jump in. That's why at BDS we invite you to contact us with specific questions you may have. We're always happy to talk to you and help you with information that will help you make the best decisions for your family's home.