Whether you love working out in a gym surrounded by people or the thought of exercising in front of an audience terrifies you, in today's world getting to the gym can be a real challenge! It can be hard to fit time into our busy schedules to get to the gym, and even then they are often overcrowded or in the world of COVID - not even open! Home gyms are becoming increasingly more popular for today's families. If you are ready to lose the gym membership, let our team at BDS help you create a functional home gym that you can use in the privacy of your own home!
So what will you need to consider when adding a gym to your home? Start with defining the space. Basements offer a perfect place for a home gym, but you can also utilize any extra room in your house. Here are some other key components to remember when building your home gym.
Circulation
You want to make sure your space is properly cooled. Unless you are creating a room for hot yoga, a nice cool space is the best place to get in a good workout. Adding fans and even a dehumidifier will help cool your gym as well as help to remove any type of odors from those serious sweat sessions!
Flooring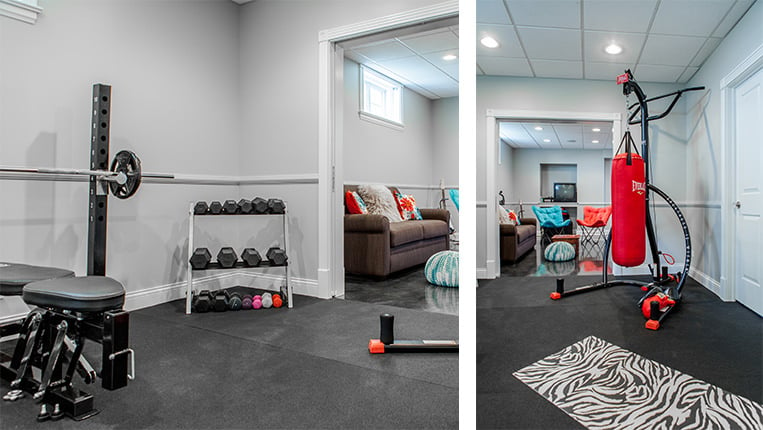 Vinyl plank flooring will create an easy base floor for your gym. It is easy to clean and provides a solid foundation for workouts. Exercise mats will add additional cushion, and are especially useful under weights to help with noise reduction. There are many different floor mat tile options, and our team can help you find the perfect fit for your space and needs.
Define the Space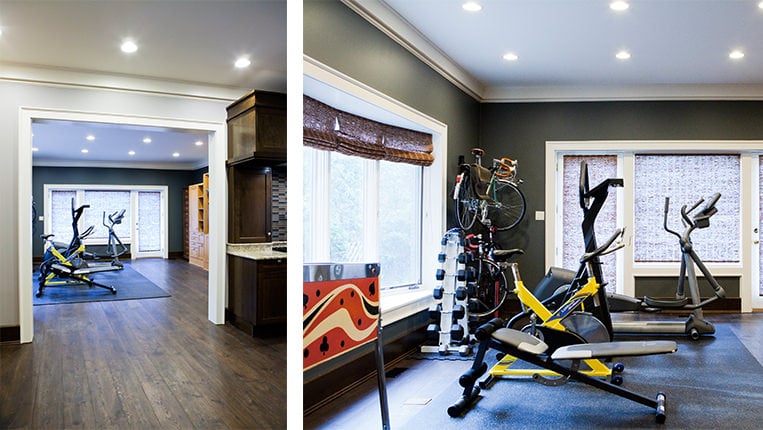 Depending on the size of your home gym, it may help to create workout stations when there is a larger room available. When utilizing a small space you will need to look for movable equipment and clever storage options for weights and other equipment. Ceiling height is especially important if you are tall or if you plan to add taller equipment like treadmills or elliptical machines.
TV and Sound
Whether you love to workout to your favorite hits or your favorite show, having a good tv and speaker system is an added bonus in your home gym. E-classes are increasing in popularity as well, so it helps to think through proper placement of your tv's location for all situations.
Additional Details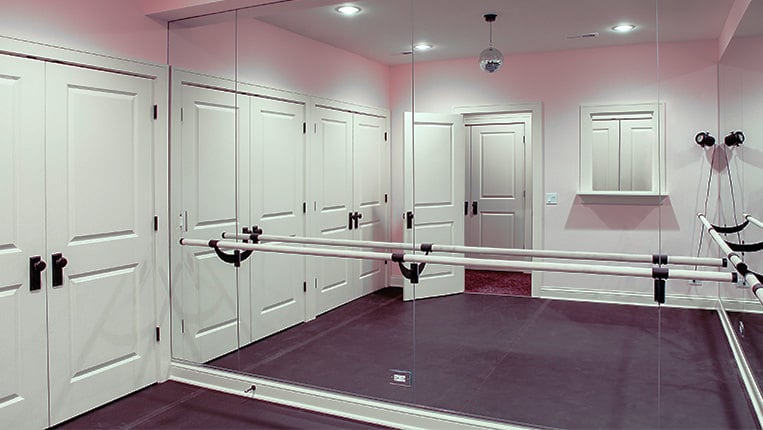 Mirrors can help with the size and feel of the room, and they can help you focus on your posture and it is a great photo op for that selfie to show off your progress! Also keep lighting in mind if you gravitate towards yoga and meditation. It would definitely create a more relaxing space serene environment with the addition of a dimmer on the lights. Add a little mini fridge to your space to help keep hydrated during your workouts and cool down!
Ready to cut down on the commute to the gym, avoid the crowds, and create the perfect home gym? Our team at BDS is ready to get your project moving! We will help build your functional home gym to either start your health journey or just take it to the next level.