Third Lake Primary Bathroom remodel was a fun space to reimagine! This existing bath was the original to the house. Outdated and in need of maintenance, this bathroom quickly transformed into a modern stylish primary bath for our homeowners. Every remodel has its very own style, and these fun homeowners brought major style into their remodel with modern touches and pops of color!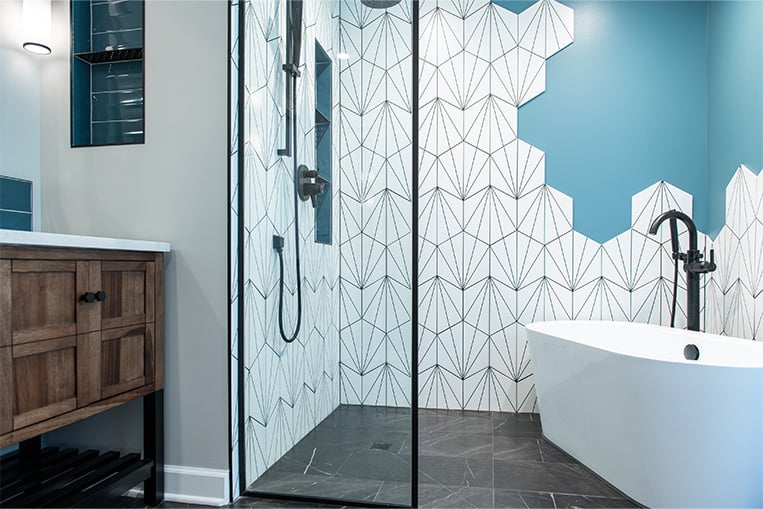 SHOWER AND SOAKER TUB
Our team at BDS works hard to achieve the dreams our homeowners have for their remodels, and we love to hear everything on your wishlists! Have you been making a wishlist for your home remodel? It is never too early to start dreaming and planning out your new space! One of the top items on our homeowner's wish list included a shower and soaker tub. Since space was limited, it required us to combine the bath and closet space into one entirely new area! This beautiful soaker tub welcomes these homeowners to come in and relax the stress of their day away. An incredible geometric tile wall which starts in the shower and cascades down the wall into the tub area was added to protect the walls from splashing. We also slightly raised the floor to create a curb-less walk-in shower area. To create separation from the rest of the bath, a single piece of glass acts as a barrier yet allows a truly open feel to the shower.
WATER CLOSET
Another requirement of our homeowners was a water closet, so we added this stunning barn door with privacy glass to keep this bathroom and the water closet from feeling too dark. This barn door also creates a beautiful focal point in this bathroom without overpowering the style from the color and tile. Outside the water closet, this dual vanity is a piece of artwork all on its own. The beautiful woodwork stands out and brings a richness to the space. The beautiful backsplash and side shelf niche add style and function for our homeowners. Finally large mirrored doors on the new closet space, bounce light around to make this gorgeous space feel even bigger!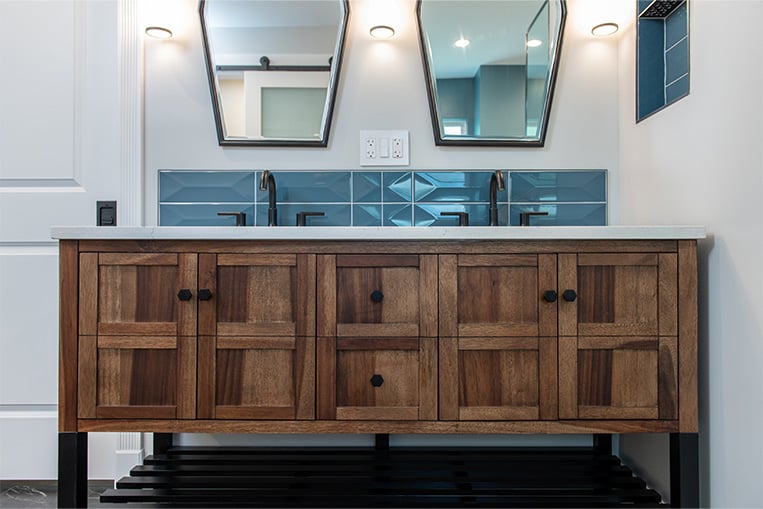 READY TO UPDATE YOUR HOME?
Any space can be reimagined to create function and style! Our BDS team would love to talk through what your current space looks like, and then hear what you are dreaming to accomplish with a remodel. Give our team a call, and we would be happy to schedule a consultation to get your project rolling!