Whether you are remodeling a hall bathroom or looking to create a stunning master bathroom, there is a new trend in bathroom renovations. Homeowners are often choosing to forego the traditional bathroom layout, and instead opt for a new functional option! We see bathtubs becoming a debatable bathroom necessity! What do you think, is a bathtub a must or is a large walk-in shower something you dream of?
LARGE SHOWERS
As our schedules become more and more jam packed, we are always looking for ways to unwind at the end of the day. A long warm bath may not be your style, but maybe a hot steam shower is. There are several things to consider when remodeling your bathroom, and creating a large walk in shower in your master bathroom is a luxurious option to consider!
Here are some of the most popular shower features to consider for your new space:
Rainfall shower heads
Hand held body sprayers
Steam units
Dual shower heads
Heated floors
Room for a bench
No threshold (curbless)
Remote control pads in the shower stall and outside the stall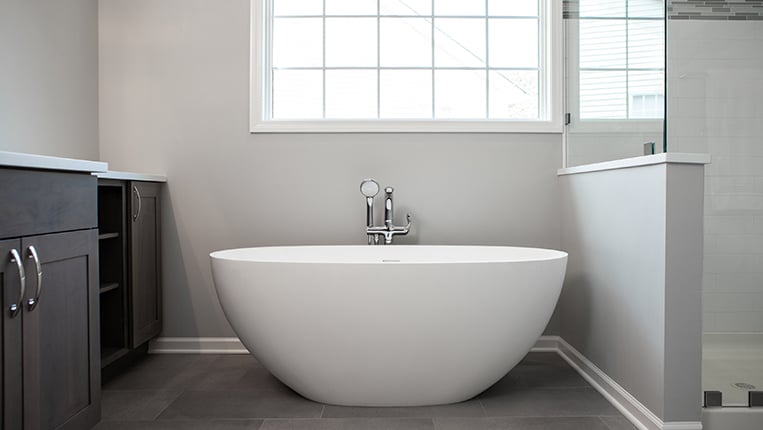 TRADITIONAL BATHTUBS
Candles, a quiet room, and a large soaking bathtub may be the perfect ending to a long stressful day at work. A stunning freestanding bathtub can often be a focal point of a beautiful bathroom layout. Bathtubs provide the perfect space to incorporate architectural details and even some classical or modern design elements. A beautiful clawfoot, free-standing tub can be an instant design focal point. There are plenty of options available if you are incorporating the timeless bathtub in your remodel.
Here are some of the most popular bathtub options:
Soaking tubs
Jetted tubs
Extra long tubs
Clawfoot tubs
Air Jet
Tubs with room for 2
Adding a door to create a sense of privacy
ADDING VALUE
A bathroom remodel adds incredible value to your home, and most importantly gives you a stress free space to unwind at the end (or beginning) of your day. We know this can be a difficult decision to make. Call us today, and our team can talk through all the options, and plan out the perfect bathroom layout for your home remodel needs!