Renovation projects come in all sizes and time frames. Some take place one project at a time over many years, and some happen immediately after moving into the home. Our BDS team is happy to help with renovations of any size and any time frame. The Red Top Remodel was looking to update their new house to meet their style as well as modernize some outdated areas of the home. The homeowners took on some initial painting themselves, and then our BDS team had the pleasure of joining them to tackle the rest! Red Top Remodel was ready to tackle multiple projects in their new home, so our team was able to help renovate the kitchen, three bathrooms, office, family room, as well as the mudroom and then a few additional projects like lighting, painting and additional outlets to really help make this home functional.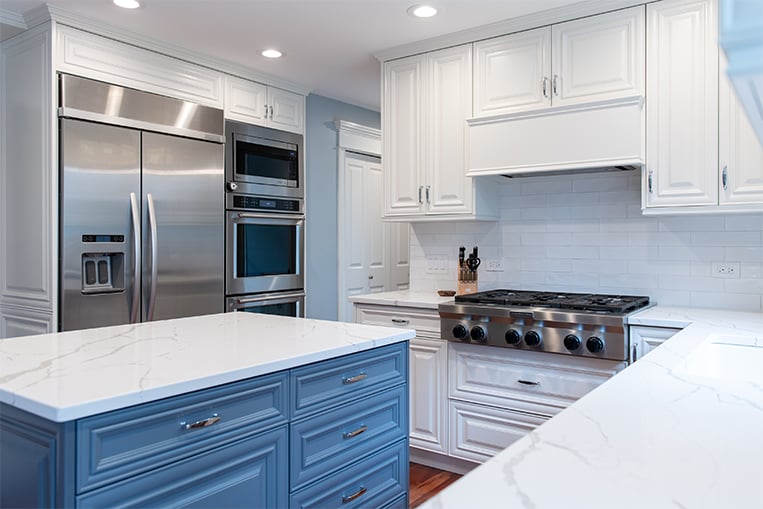 Not every kitchen remodel involves an entirely new set of kitchen cabinets. We are often able to use the current cabinets that are in excellent shape and give them a fresh coat of paint to bring them to a fresh new life! This was the case with the Red Top Remodel project. The cabinets were wonderful and we were able to keep them as well as the existing appliances that were new as well. We gave the cabinets a beautiful two toned paint with white cabinets on the perimeter and a pop of blue on the island. We topped these cabinets off with a stunning light countertop with subtle gray veining. Our team updated the backsplash with a bright white subway backsplash that gave this kitchen a fresh modern style.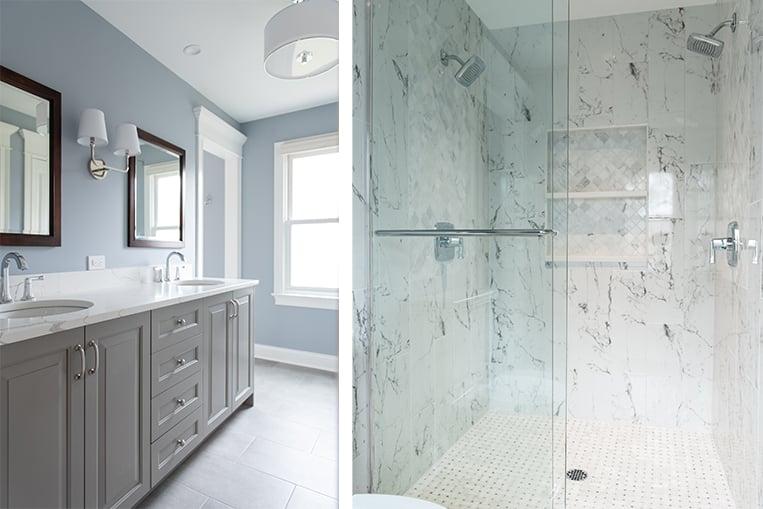 The primary bathroom also had a wonderful vanity that we were able to refinish and freshen up with new paint. A stunning new countertop with the same white clean look as the kitchen and gray veining to pop with the cabinet paint. We gutted the shower to create a dream spa like space for our homeowners. The dual shower heads combined with gorgeous tile work brightened up the bathroom, and the glass shower door helped keep the space open and bright. We updated the flooring with a modern oversized rectangle tile that really helps bring the whole bathroom together. Finally we finished out the primary bathroom with all new fixtures and lighting to complete the classic updated look of this room.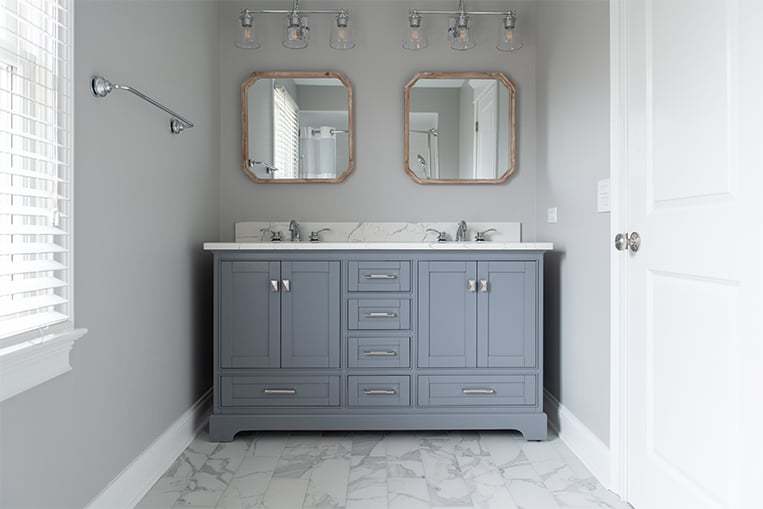 Another room that we updated at the home was the first floor powder room. The BDS team added a new walk in shower to make this powder room into a full bathroom. Bright white tile work in the shower complimented the beautiful white and gray tile flooring laid in a fun herringbone pattern. Fresh paint and a brand new vanity really updated the space, and we kept it light and airy with a new glass for the shower door. Just like the primary bathroom, the powder bath also received all new fixtures and lighting.
The office space of any home has now become more used than ever, and we gave our homeowners a wonderful new space to enjoy. The bones were great in this space, but we added built in bookcases to make this space more functional and add great storage space. Fresh paint and new lighting helped us update this room, and we were able to add some privacy with new french doors at the entrance to the office.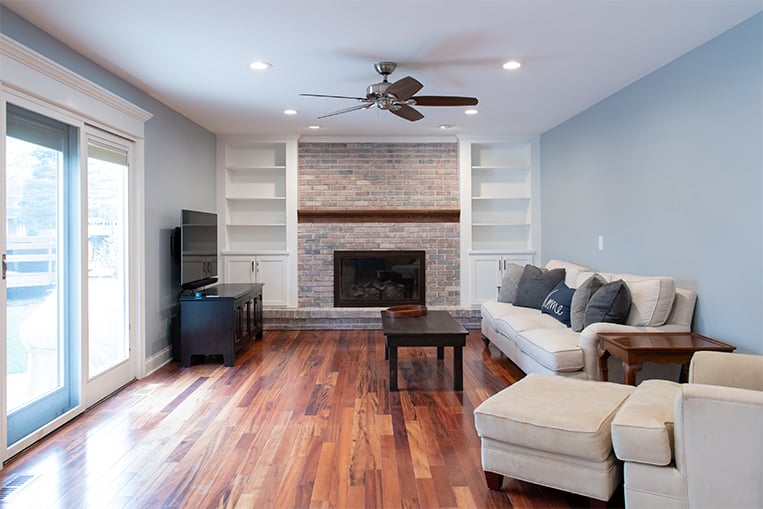 A cozy family room is what every homeowner dreams of and we just needed to make some functional adjustments to really make this what was needed for this house. Our team added new custom built-ins with a clean white painted finish. We brought the classic brick fireplace up to the style of the rest of the renovated home with white washed brick and a brand new stained mantel.
The mudroom has become one of the most functional rooms in homes these days. We updated this room with new cabinets for storage. Fresh new laundry area and a sink. We also added a new barn door to be able to close off the mudroom from the rest of the home because let's be honest - sometimes we just need to keep this space closed and out of sight!
As you all know, keeping our homeowners comfortable while we are remodeling their home is a priority for our BDS team, so while we could have gutted all the bathrooms together we chose to hold off on the 2nd floor hall bath until later in the project. We didn't want them brushing teeth and bathing from the water hose outside! This hall bathroom got a fresh new vanity with a beautiful pop of color. We continued the same clean white look as the rest of the home with the white countertops and white tile work. The existing bathtub was resurfaced to be fresh and new as well as all new fixtures, lighting and paint.
Feeling inspired to remodel your own new home, or maybe you have lived there for years and you are just ready to update the style? Our team can't wait to help you on your journey! Whether you are tackling the entire house or just one room, our BDS team is here for you from start to finish. We can't wait to hear your vision for your home, or if you feel overwhelmed we can talk you through what you need and make a game plan. Call our BDS team today to schedule your consultation!