These days there are so many options when it comes to the design of your kitchen. From backsplash to hardware or countertops to cabinets, the options are endless. When it comes to kitchen cabinets, you can choose from stained or painted. Don't know which route to take? Our team at BDS is happy to discuss your vision and which design option will best suit the look you are trying to achieve.
Stained Cabinets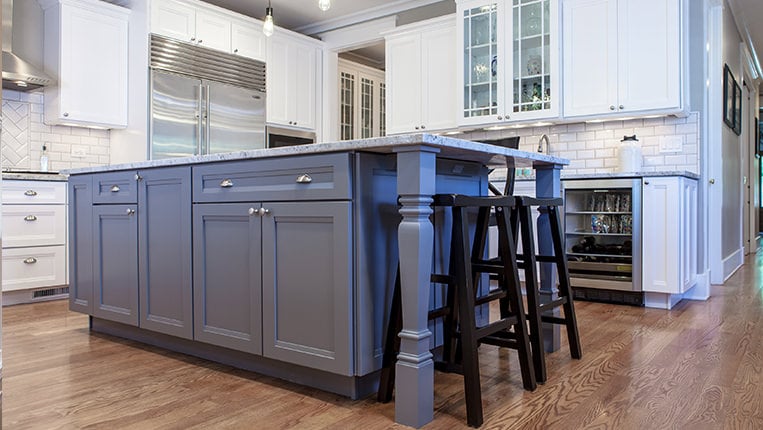 Stained cabinets are a beautiful traditional look for a stunning kitchen. This natural look allows for the natural beauty of the wood to show through. It allows the character of the grain and knots of the wood to shine through. Popular stains range from rich tones on Hickory or lighter stains on Alder and Birch. With stained cabinets, touch ups are less likely but can be easily fixed with the variety of stain pens available these days. Stained cabinets tend to have a longer lifespan than painted cabinets according to Home Advisor. This is due to the fact that it moves with the wood as it expands and contracts which results in showing less of the cracking that can appear with a painted cabinet. In the past few years stained cabinets have been making a comeback in kitchen designs. The simple look of stain allows for more design options when it comes to wall colors and backsplashes.
PAINTED CABINETS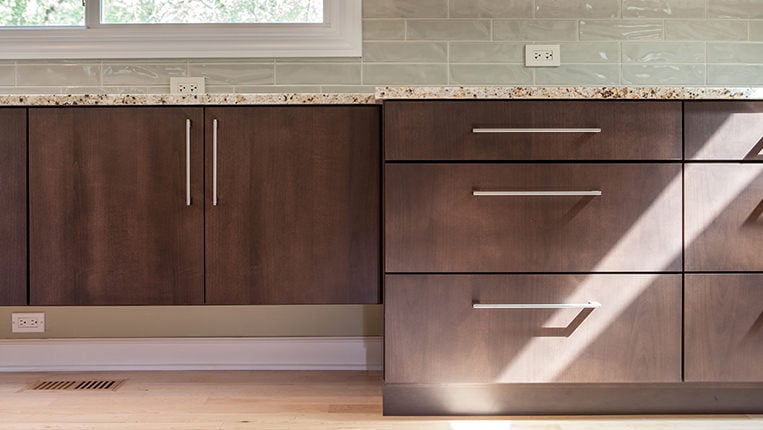 Painted cabinets have been very popular over the past few years. The options are endless but white is the most often used and creates a classic clean option. More modern options are shades of grays, blues, greens, and black. Due to the thicker nature of paint, painted cabinets provide a smooth uniform finish on kitchen cabinets. Unlike stained cabinets, painted cabinets do not have quite the lifespan of stained cabinets due to scratching and every day wear and tear. Chips are also not as easily patched on painted cabinets, so it is important to have good hardware to use. Painted cabinets add a beautiful pop of color to your kitchen, but can limit the color options when it comes to walls and backsplash designs.
Some homeowners even opt to mix it up with some stained and some painted cabinets. For instance, you can create a beautiful kitchen with the main cabinets in a beautiful stain and a pop of color on the kitchen island. Or the opposite with a classic white on the main cabinets, and a beautiful natural stain on the kitchen island.
Our team at BDS can help you talk through the options that will best suit your kitchen remodel. You can't go wrong when it comes to stained or painted cabinets, it is all about the design you are looking to create. Contact us today, and our team will cover all your design visions and help you create the kitchen you are dreaming about!