The kitchen is often the heart of the home, and for one busy blended family in Libertyville, it was hindering their ability to spend time together and entertain. The outdated layout of the kitchen made it difficult to move around and caused congestion when cooking and cleaning. Our team at BDS was able to come in and update the first floor and create a more functional and enjoyable living space for these homeowners.
FUNCTIONAL UPDATES
The BDS team replaced the old flooring with a durable material that could withstand the activity of an active family and pets. This would ensure that the family could continue to use the space without worrying about damage or wear and tear. We also relocated the door to the garage, which was taking up valuable space that could be used for storage and a mudroom. By moving the door, the BDS team was able to create a large mudroom with plenty of storage cabinets. This was a crucial addition for the family, as it allowed them to keep their coats, shoes, and other items organized and out of sight. Additionally, the basement door was converted to a barn door to provide more usable space in the kitchen.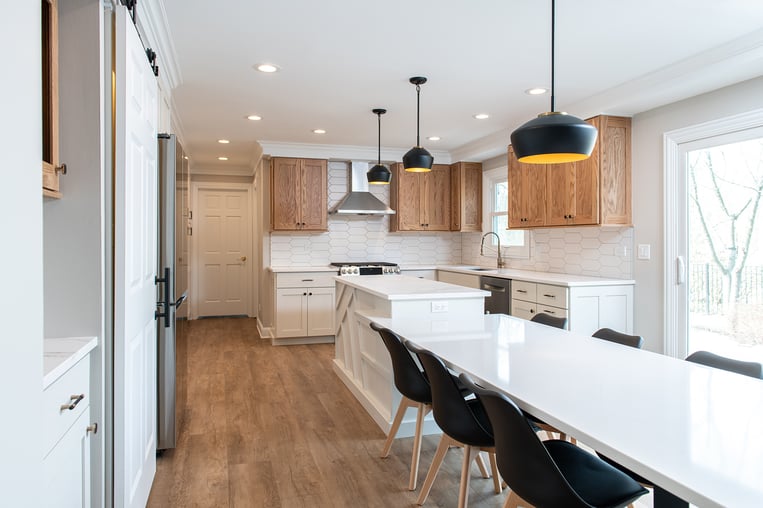 A BEAUTIFUL KITCHEN ISLAND
The most significant change, however, was the development of a large great room tied to a signature island. This room became the centerpiece of this Libertyville home, providing ample space for meal preparation and seating for the whole family. The island was a two-level stretch of countertop, perfect for meal prep and for the kids to do their homework. This area featured wood uppers and painted bottoms with a clean quartz top, creating a stylish and functional space for the family to gather.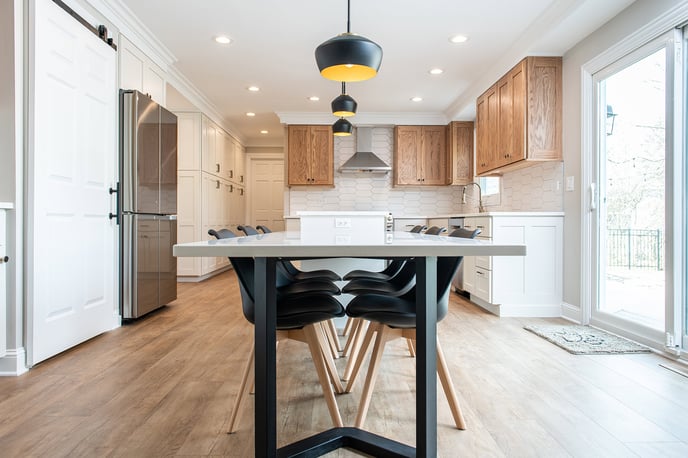 AMPLE STORAGE
The hallway leading to the bathroom and back bedroom was lined with ample storage cabinets and pantry space, making it easy to keep everything organized and within reach. This was a small but important addition, as it allowed the family to keep their supplies and other items easily accessible and avoid clutter.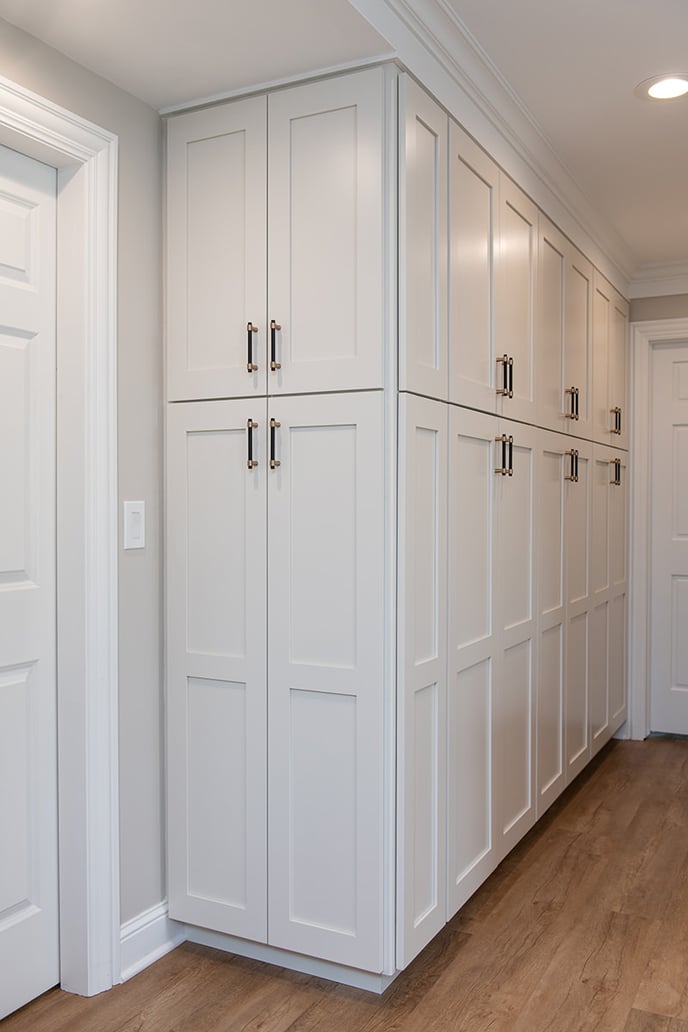 A COHESIVE DESIGN
Our BDS team was able to create a more functional and enjoyable living space for this active blended family. With the new great room and signature island, the family now has a central gathering place that can accommodate their daily activities and frequent entertaining. The new flooring, mudroom, and storage solutions have also made it easier for the family to keep their home organized and clutter-free. This home has been transformed into a beautiful and functional space that the family can enjoy for years to come.
Call our team today to get started!
---