The original home was built in 1910 in a style reflective of the then popular arts and crafts movement, which prized the simplicity and elegance of detailed craftsmanship over industrial production. It is with this same care and attention to detail that BDS restored this historic home while at the same time making it functional and fresh. The home renovation is the perfect reflection of the forms and philosophies the original home was built on.

[View More Photos of this Liberyville Home Remodel]
The Addition
Perhaps the most spectacular and substantive change BDS brought to his historic home is its two-story building addition that nearly doubles the original home's square footage. While the front of the house was altered to present a more modern and inviting face, the larger change occurred to the back of the house and the garage that were both extended to accommodate the family's needs.

[View More Photos of this Liberyville Home Remodel]
The building addition, however, is impressive for many more reasons than its size.On both the interior and the exterior, the new addition is seamlessly incorporated into the home's original design.
Often, many modern additions present an abrasive and obvious shift between original and new designs. The windows, trim work, front paneling, and roof lines of the home, on the other hand, were all built in a style reflective of the original, making the new construction difficult to differentiate from the original.
This continuity of design is reflected on the inside as well as the outside. The layout transitions harmoniously from one room to the next and is united by an open central hallway connecting the front entryway to an alternate entryway at the home's back side. The open-concept kitchen and family room keep the home from feeling too narrow.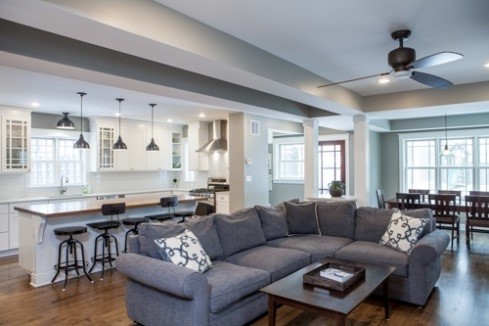 [View More Photos of this Liberyville Home Remodel]
Arts and Crafts Elements
This home remodel evinces a faithfulness to original design choices on a small scale as well as on a large scale. Design elements reflective of an arts and crafts style may be found everywhere: in the stately but straight-lined wood columns supporting the home's main thoroughfare, in the trim work adorning the windows and fireplace, and in the rectilinear structure of the glass-paned windows that is echoed in the woodwork on the glass-paned kitchen cabinetry.
Even elements of the home that have been thoroughly modernized, like the upstairs master bedroom, have been done so in a manner that pays homage to the home's inclination toward clean lines and decluttered spaces while at the same time showing beauty in creative architectural lines.
Click here to learn more about BDS, the leading home remodeling company in Chicago's North Shore.