At the very beginning of each home remodel, we sit down with our clients to hear their vision and goal for the upcoming project. The goal may be to update an outdated bathroom, add more functionality to a kitchen, or add guest space in a basement. For our Libertyville Basement Remodel, our homeowners were envisioning a great entertaining space. The basement of this home was a blank canvas for our team to work with. Our homeowners had a few requirements that they really wanted to see including a wet bar, tv area with storage, and a stage area for small concerts. This unfinished space had incredible potential, and we couldn't wait to help create the entertaining space our clients were longing for!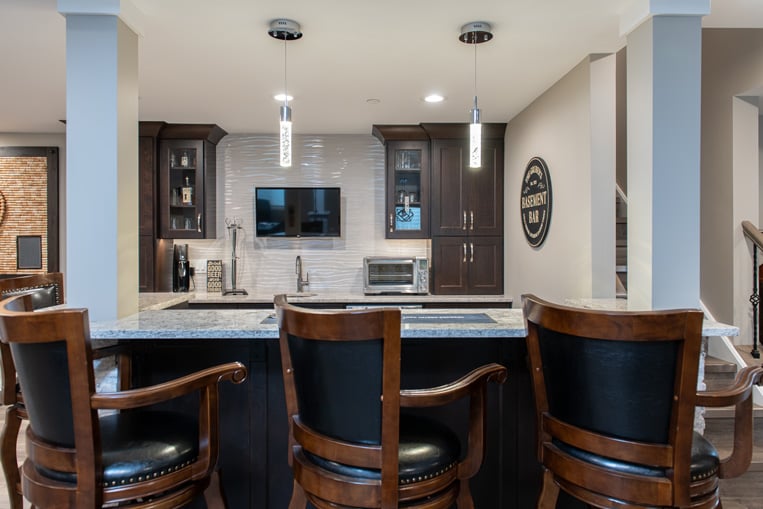 wet bar
The empty basement has a large amount of space which allowed our team to create areas for the specific requirements our homeowners asked for. The wet bar is the perfect space for the family and their friends to go for food and drinks! We added dark cabinets for storage and a light counter top to keep the space clean and bright. A dishwasher for easy clean up, as well as a toaster oven and microwave are must haves for all the game day snacks and late night munchies this crew may need. Bar seating allows for the guests to hang out while waiting at the bar as well as adding additional seating.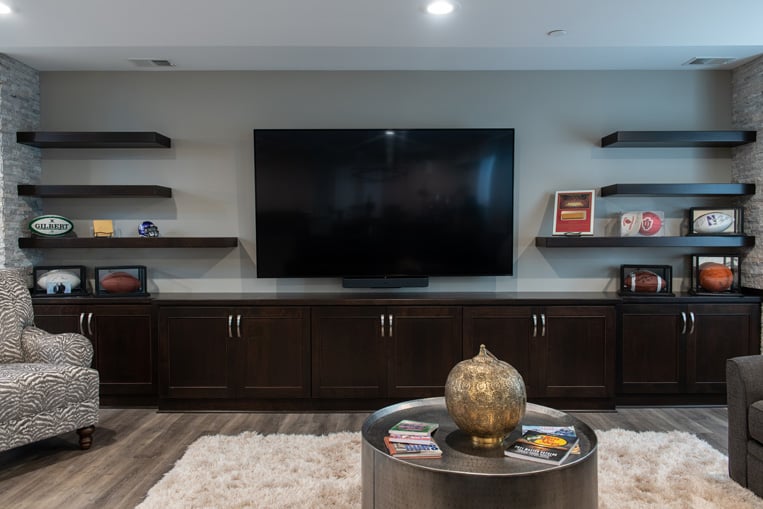 a place to watch the game
A large custom TV built-in and viewing area is the place everyone in the neighborhood will want to go for all sports events and movies. There is plenty of space to kick your feet up, and watch the game. Storage under the tv for all the electronics and game systems, so when friends are over there are plenty of options to get out and entertain the guests downstairs. Behind the tv area is space for a pool table where everyone can play a game of pool and still have a clear view of the tv. We added drink rails to the structural columns to accommodate drinks during a game of pool or darts. These columns were wrapped with a beautiful stone at the base to match the bar base which helped create a cohesive look across the entire basement.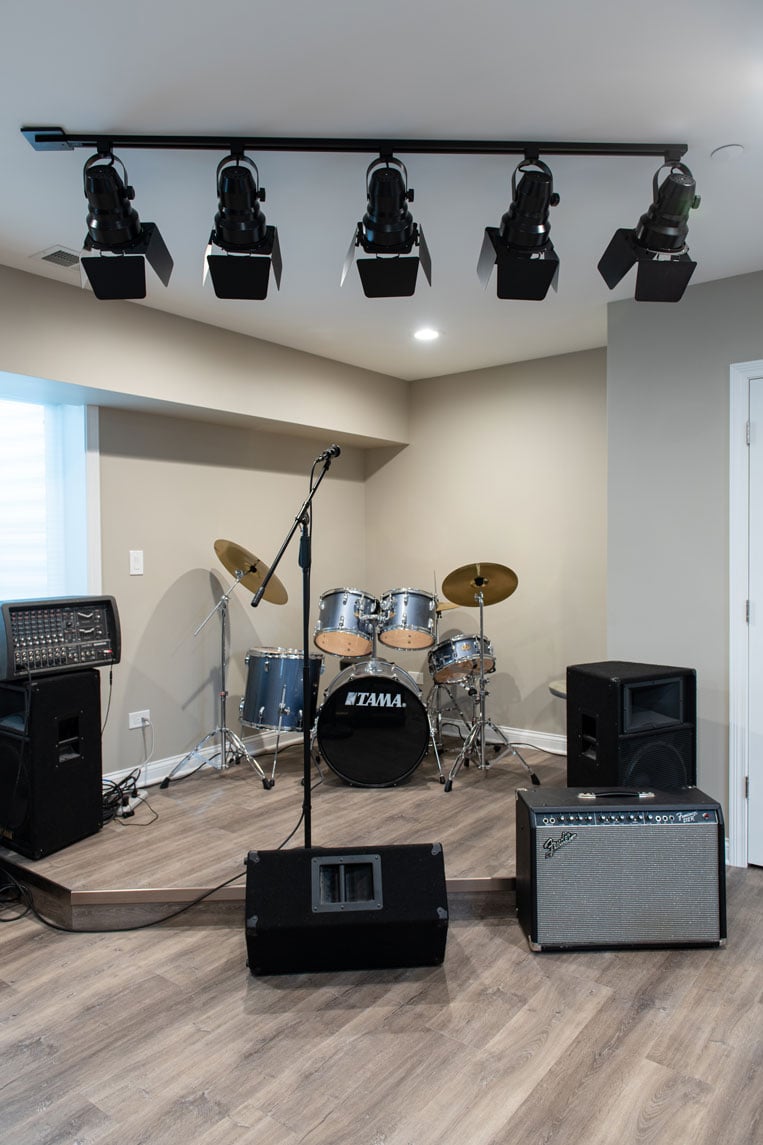 concert stage
When you have a homeowner in a band, you can't forget a raised stage area for those small intimate concerts for friends and family. We raised the ceiling drywall as high as we could for space and limited soffit size to just around structure and mechanicals. This allowed us to add stage specific lighting to create the ultimate concert space. We know the family may not want to always hear what is going on in the basement at all times, so we made sure the walls and ceiling were all filled with sound attenuation insulation to limit the noise traveling to the first floor.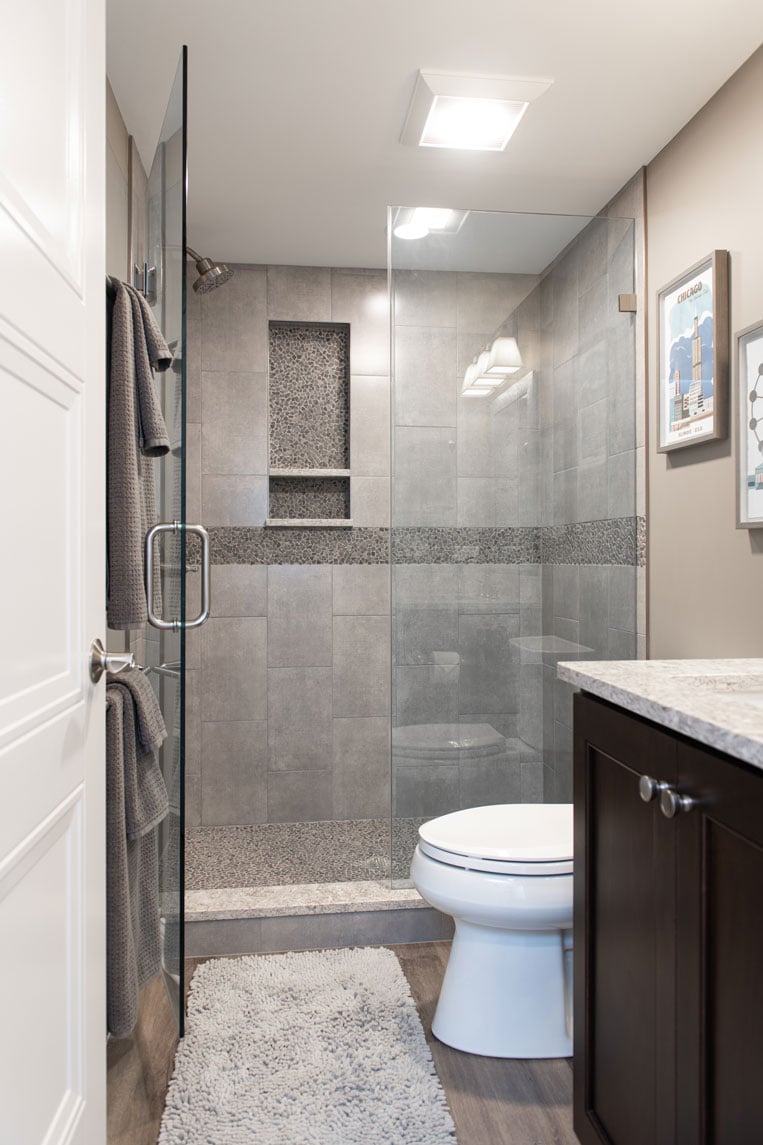 basement bathroom
No basement space is complete without a bathroom of course, and this basement allowed us to add a full bathroom to accommodate guests and this family of growing boys and friends! A classic neutral shower with vanity is the perfect addition for guests who don't want to run upstairs and miss the game!
This stunning basement has everything you need to entertain friends and family! There is storage to keep it all organized and clutter free. Our homeowners will be the host for every sporting event and gathering!
feeling inspired by this fantastic space?
Reach out to our team at BDS, and we can schedule your consultation today to begin creating the perfect entertaining space in your home.