Our BDS Team was excited to help our homeowners turn their newly purchased house into a home that perfectly reflects their style and personality. These Libertyville homeowners were determined to give their new home a much-needed interior refresh. The goal was to create a space that truly felt like their own - a haven of comfort, elegance, and functionality.
STARTING WITH THE FIREPLACE
The starting point of our remodeling adventure was the outdated fireplace room which is a focal point of the home. The fireplace received a stunning makeover with the addition of sleek paneling, infusing it with a fresh and modern look. The BDS Team also utilized this opportunity to cleverly hide TV wiring within a beautifully crafted custom mantle. Now, the family can enjoy cozy evenings by the fire without any unsightly wires distracting from the ambiance.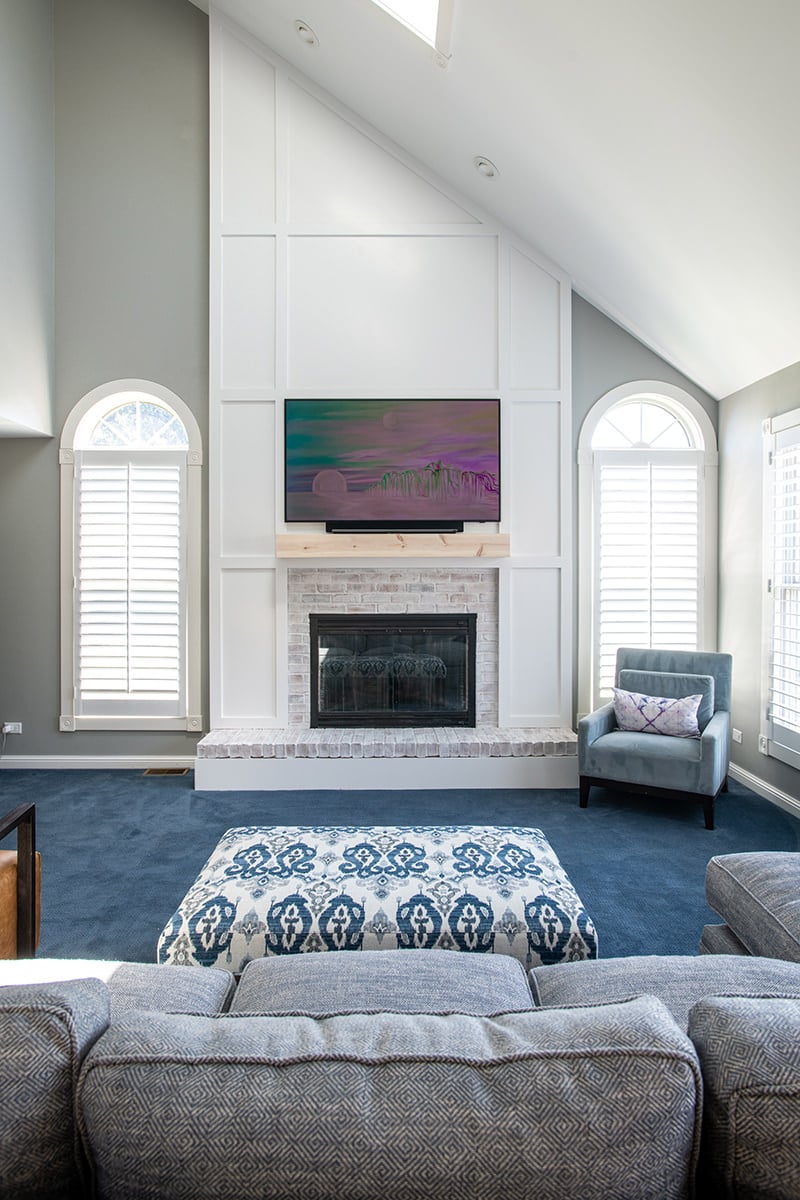 FLOORING TO TIE IT ALL TOGETHER
To enhance the overall aesthetics and functionality of the home, the team refinished all the floors resulting in a breathtaking and seamless flow that tied the whole house together. Additionally, we replaced and updated all the stair railings and added a new stair runner, further contributing to the home's newfound sense of cohesiveness.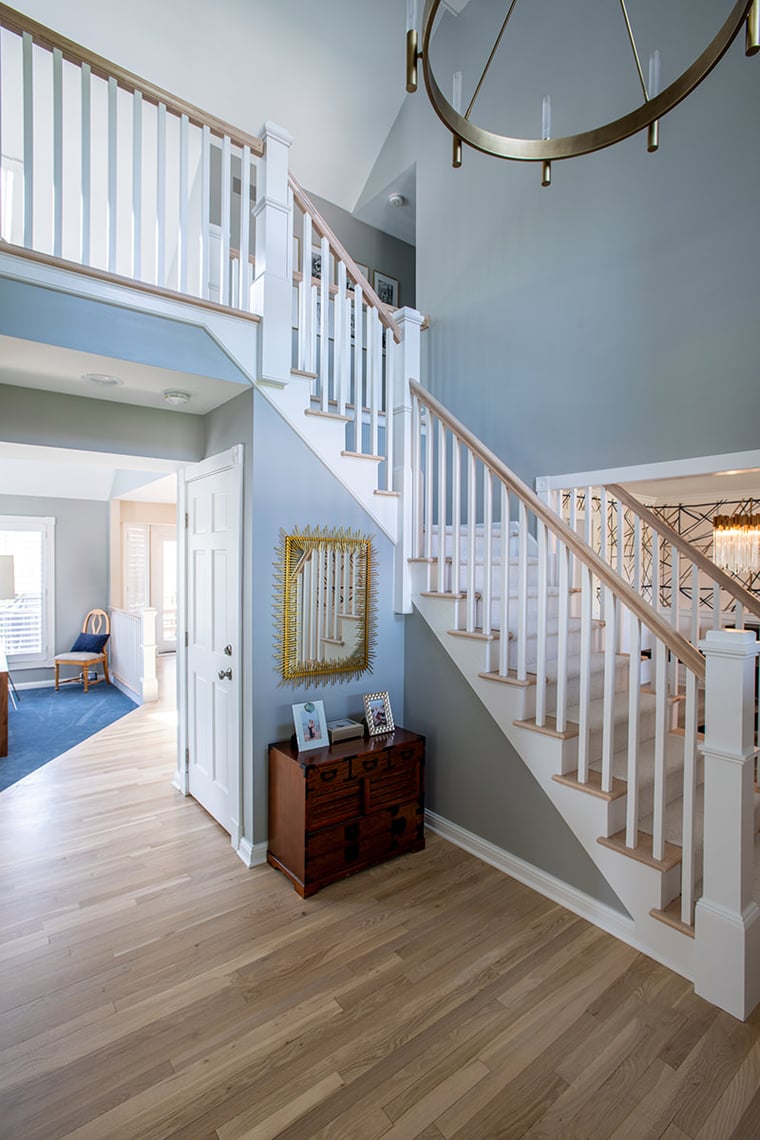 A KITCHEN TO GATHER IN
The kitchen underwent a remarkable transformation. The old countertops were replaced with exquisite new ones, and a stunning backsplash tile was chosen to complement the space. With a fresh coat of paint on the cabinets and island, the kitchen became a bright and welcoming area that the family can gather in and create lasting memories.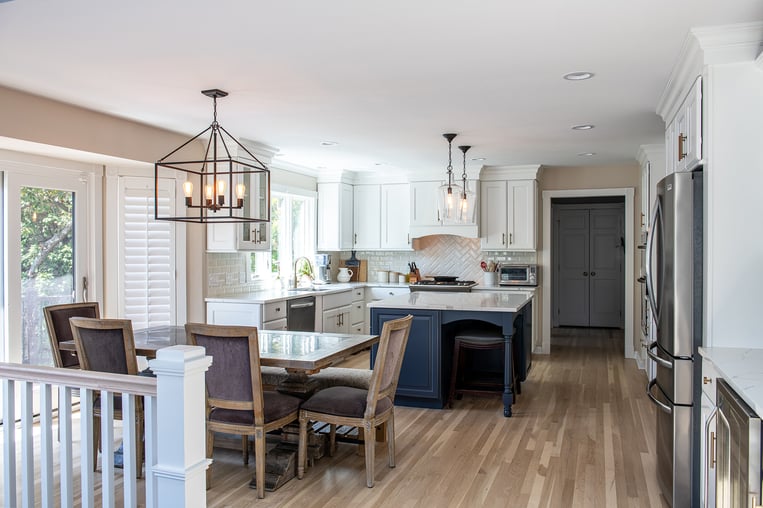 A DINING ROOM THAT IS BOTH BOLD AND INVITING
As we moved into the dining room, the BDS team wanted to create a warm and inviting atmosphere that would host countless family gatherings and dinners with friends. A new light fixture was installed adding a welcoming glow to the room. To add an elegant touch, we introduced wainscoting, lending a timeless charm to the space. But the true showstopper was the stylish wallpaper, carefully selected to reflect the family's personality and infuse the room with character. The BDS Team had several practical elements to this remodel as well, such as modifying the doors between the kitchen and dining room, optimizing the flow and improving accessibility between these two essential spaces.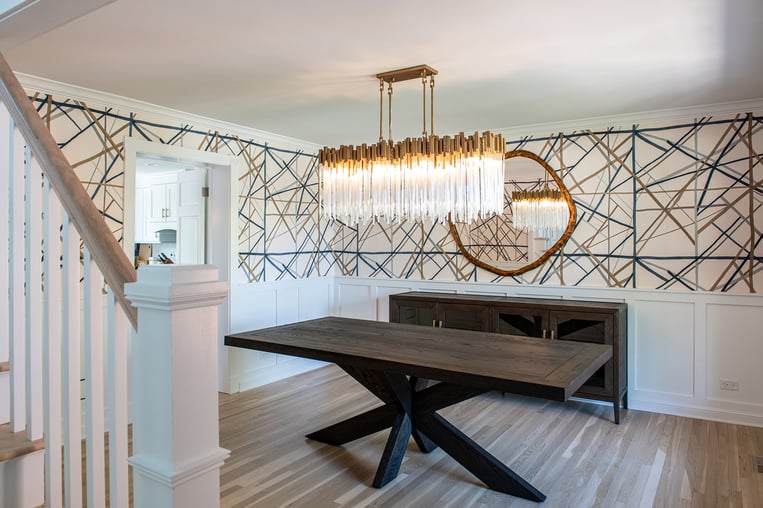 At BDS, we cherish every opportunity to collaborate with homeowners on their remodel projects, witnessing the evolution of their homes into spaces they truly love. This Libertyville remodel journey has been nothing short of remarkable, and we are grateful for the trust the family placed in us to bring their vision to life.
Call our team today to get started!
---