Nothing tops off an incredible kitchen remodel like the perfect countertops. Not sure what the best countertop material is to fit your lifestyle? With so many decisions it can feel overwhelming to know where to begin. Our team at BDS have some details on the top materials used in the Chicago area.
QUARTZ

Quartz countertops seem to be the current hit among popular home renovation shows, largely because of the wide variety of color, finishes and grain options available. Since Quartz countertops are engineered, it is easy to create a uniform look, but it will not have the same classic natural stone feel. Quartz countertops are composed of 93% natural rock and 7% binding and pigment which helps create a non-porous product. This makes quartz incredibly easy to care. Since it is non-porous, it doesn't require a sealant, and it is stain resistant, scratch resistant, mostly heat resistant, and very durable. Keep in mind, though, quartz countertops that are exposed to direct sunlight over a long period of time will eventually fade, warp, and crack.
GRANITE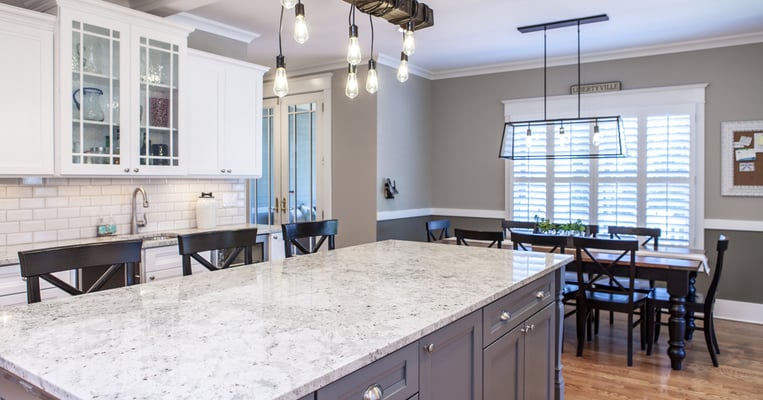 Granite countertops are a proven classic addition to your kitchen and all parts of the home. Granite countertops are 100% natural, and as such, each piece is completely unique. With that uniqueness, no two granite countertops will ever be the same! Typically, granite is also heavily veined, making it among the most distinctive materials you can choose. Since it is naturally occurring, material selection is limited to about twenty different types. Granite resists staining and scratching, and is more heat resistant than quartz. It is durable and strong, but it does require proper care to maintain its integrity. Granite must be properly sealed (and occasionally resealed) to keep it from becoming porous. If it isn't, it will quickly serve as a host for bacteria and also more easily accept staining.
QUARTZITE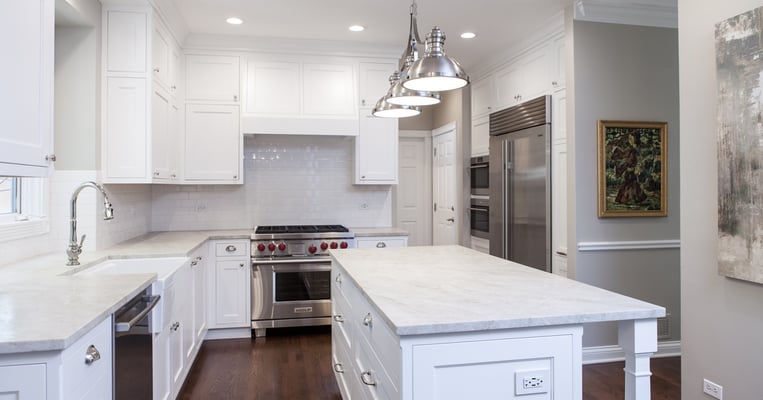 This gorgeous stone is a natural product that highly resembles marble. Don't let the similar look fool you though. It is much more durable and functional, and highly resistant to stains and heat. Quartzite is harder than granite which allows this finish to live a long durable life free of flaws like scratches and etching. Quartzite has a distinct veining from solid color to a crystalline appearance. This is a natural stone, so similar to granite it does need to be properly sealed to keep it from becoming porous. Since Quartzite is virtually maintenance free, it is no wonder why this beautiful stone is highly popular in high-end remodels.
BUTCHER BLOCK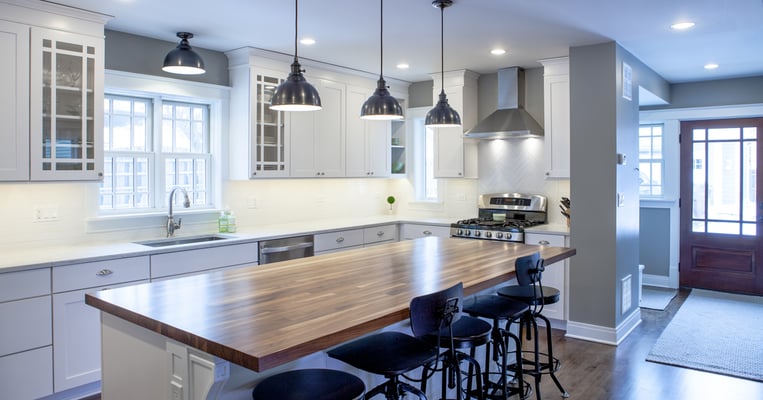 Wood is warm and inviting in all parts of the home. Butcher block counters are an excellent choice in the kitchen. They are often used in conjunction with other popular countertops. For example, it is common to see a kitchen island with a butcher block top to use for food preparation, while the countertops around the sink and appliances are made of another material. While they do add a beautiful warm accent to your home, butcher block countertops do require much more maintenance than other materials. They need to be treated with mineral oil to protect the wood, and often require a good sanding to erase the nicks or scratches that can occur.
The kitchen is the life of the home, and it can feel hard to make the right decision on materials without help. We don't want you to do it alone! Our knowledgeable team here at BDS can help you find the perfect fit for the needs of your family. Call us today, and we can help find the color and finish of any material to customize your dream kitchen. This is an important investment that you will be able to utilize for years to come with a functional and gorgeous space for family and friends to gather!