The BDS team recently had the opportunity to remodel a kitchen and living room in Palatine that was ready for an update. The space was transformed into a stunning and modern area that is perfect for entertaining guests and spending quality time with loved ones. The open concept first floor is now bright and cohesive. If you are ready to transform your first floor, take a peek at this home remodel for some inspiration.
AMPLE STORAGE
One of the standout features of the kitchen is the white cabinets, which offer ample storage and a clean, modern look. Some of the cabinets even have glass doors, which add a touch of elegance to the space. The open island is also a highlight, with its gray-blue colored cabinets and plenty of seating for guests. The same gray-blue color is used on the pantry door, tying the entire space together in a cohesive and stylish way. The gray countertop and classic hardware add to the overall sophistication of the kitchen. And, for those who love to cook, the gas cooktop and double oven are a dream come true. The appliances are top-of-the-line and make it easy to whip up any kind of meal.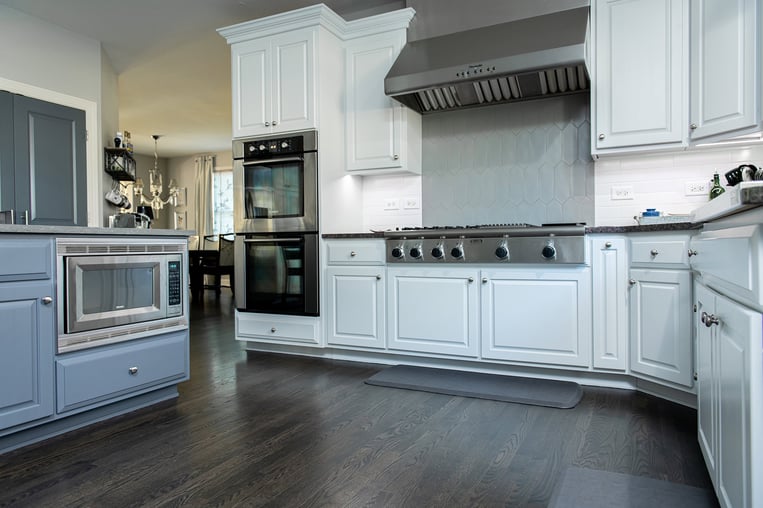 DARK WOOD FLOORING
The kitchen's rich, dark wood flooring were refinished throughout the kitchen, dining, and living room, creating a seamless and cohesive look. The open dining area flows seamlessly into the living room, which features a bar that was updated to match the kitchen island. The bar even has a drink cooler, making it the perfect spot for entertaining guests or simply relaxing after a long day.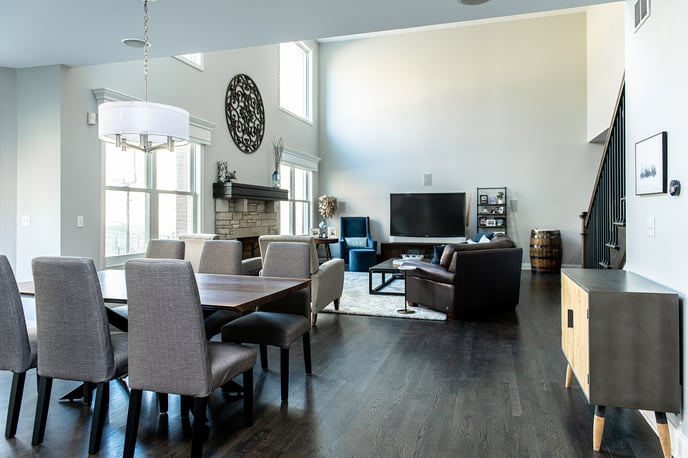 A BEAUTIFUL STONE FIREPLACE
The stone fireplace and bold wood mantle in the living room add warmth and texture to the space. The fireplace is a beautiful focal point, and the wood mantle is the perfect complement to the dark wood flooring. The living room is a cozy and inviting space that is perfect for relaxing with loved ones or hosting game nights with friends. Finally, the grand stairway features the same dark wood flooring, continuing the seamless design throughout the home. A stunning new railing was installed to add an elegant touch. The stairway is a beautiful and elegant feature that adds to the overall sophistication of the space.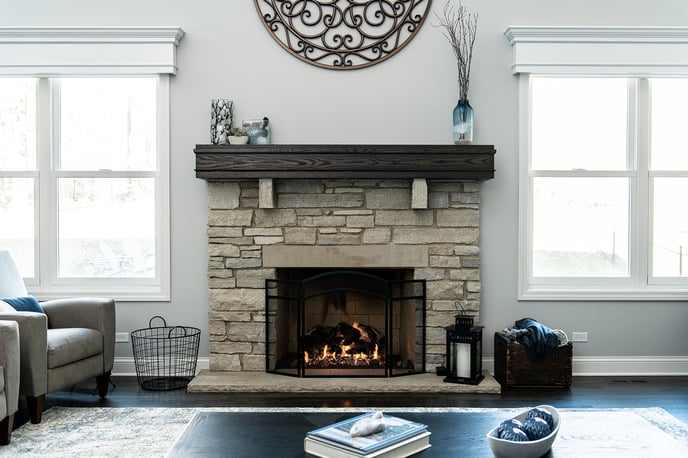 A COHESIVE DESIGN
The BDS team created an incredible kitchen and living room space with this remodel. The white cabinets, gray-blue island, and gray countertop create a modern and stylish look that is perfect for entertaining guests. The rich, dark wood flooring and stone fireplace add warmth and texture to the space, creating a cozy and inviting atmosphere. The overall design is seamless and cohesive, making it the perfect space to relax and spend time with loved ones.
Call our team today to get started!
---