This Highland Park kitchen and laundry room project was a complete gut and remodel. Our homeowners were dealing with an outdated style as well as an inefficient work triangle and failing appliances. Our BDS team was able to come in and help our homeowners reconfigure this work space in the kitchen and the layout in the laundry room to optimize the space in the home. We were also able to help create additional storage space which is something every homeowner is looking for!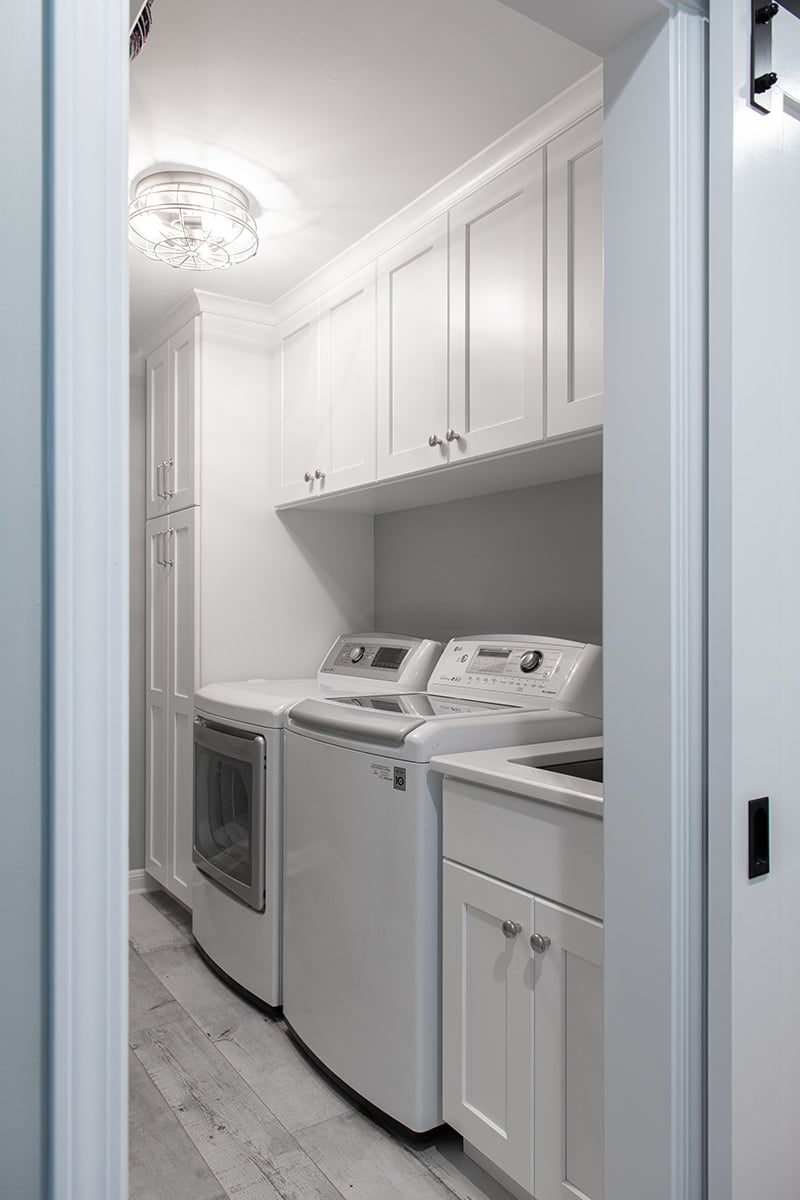 FIRST STEPs
In order to start fresh with the layout of this Highland Park laundry room, our BDS team needed to close off the exterior door to the laundry room and install a new patio door from the adjacent room. This allowed our team to reconfigure the laundry room allowing for more space and a new layout! We turned this laundry room into a clean and bright space for our homeowners to take care of laundry, but we were also able to provide lots of additional storage in this new space. White cabinets keep the space light especially when combined with a light new flooring. We added a sink as well as additional shelving to accommodate our homeowner's needs. New finishes and lighting help complete this laundry room, and we finished it off with a new barn door from the laundry to the hallway which allows for better circulation in this space.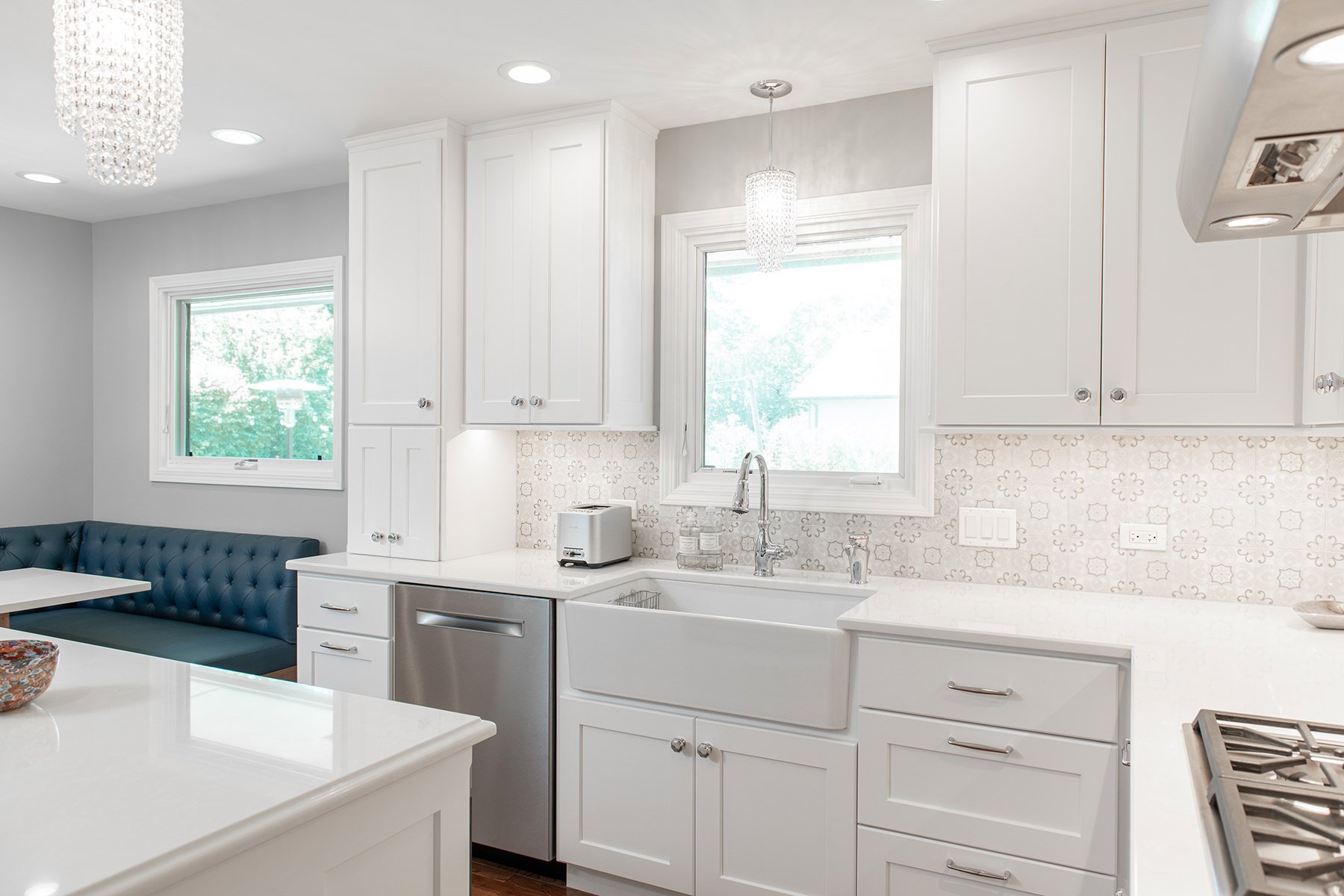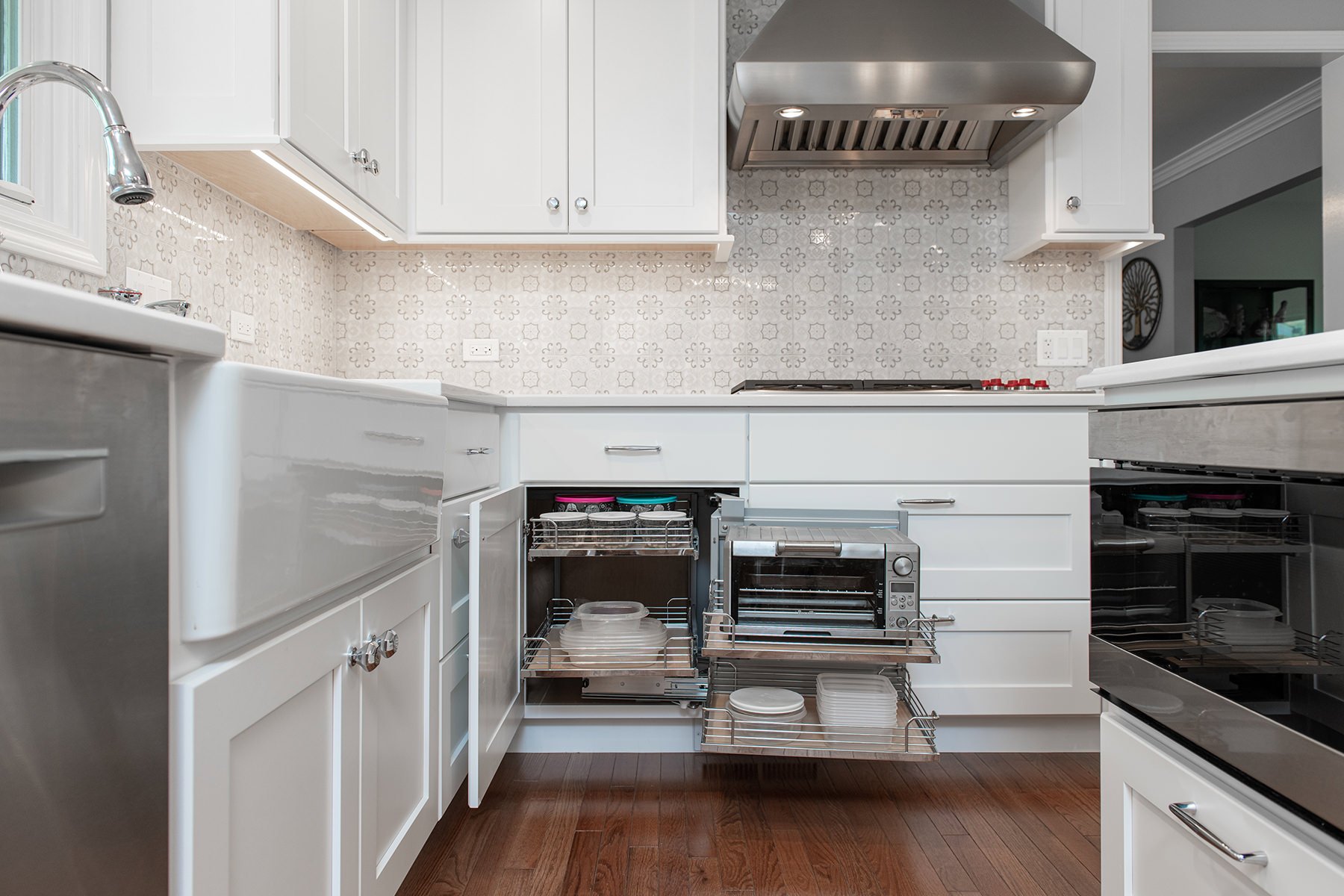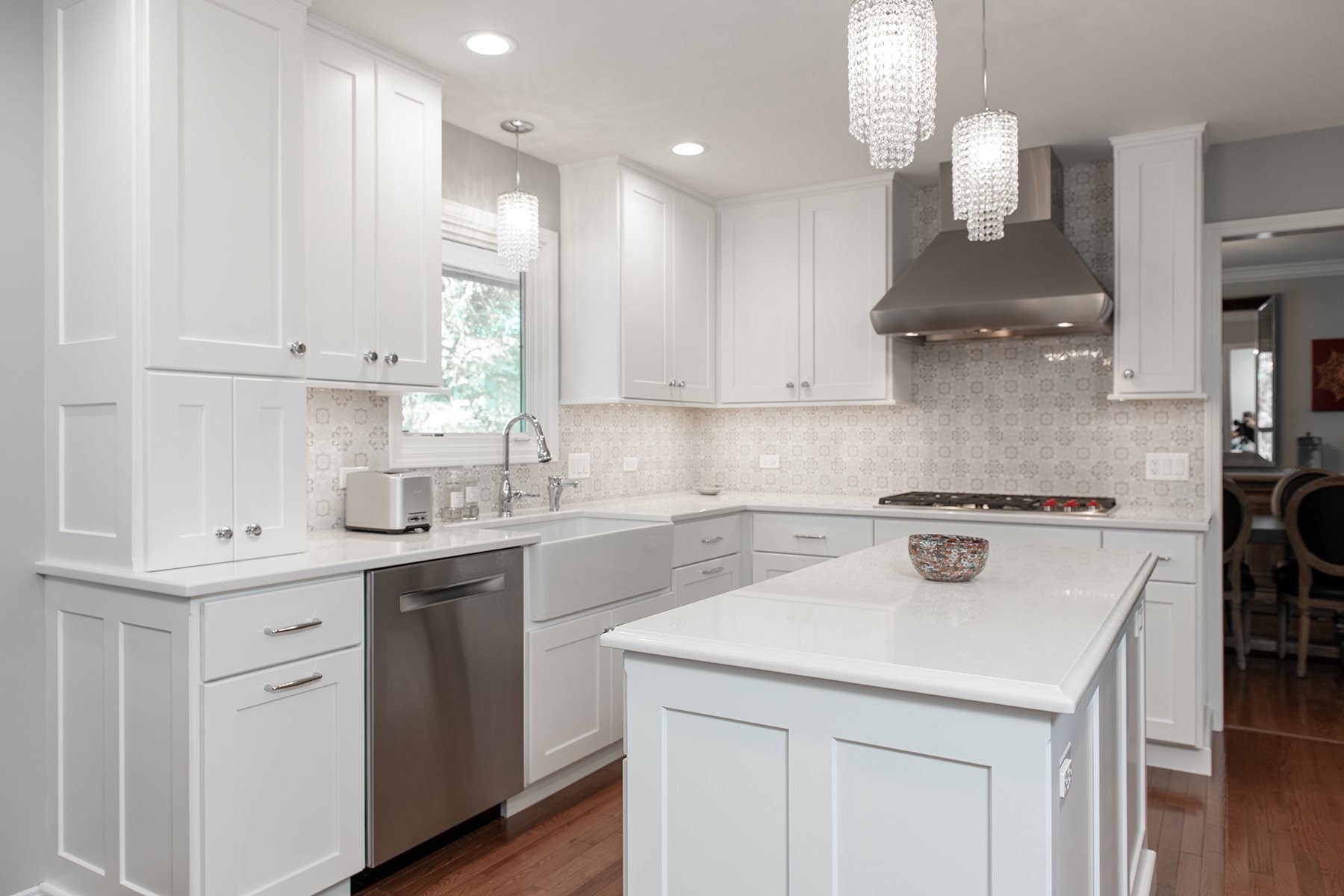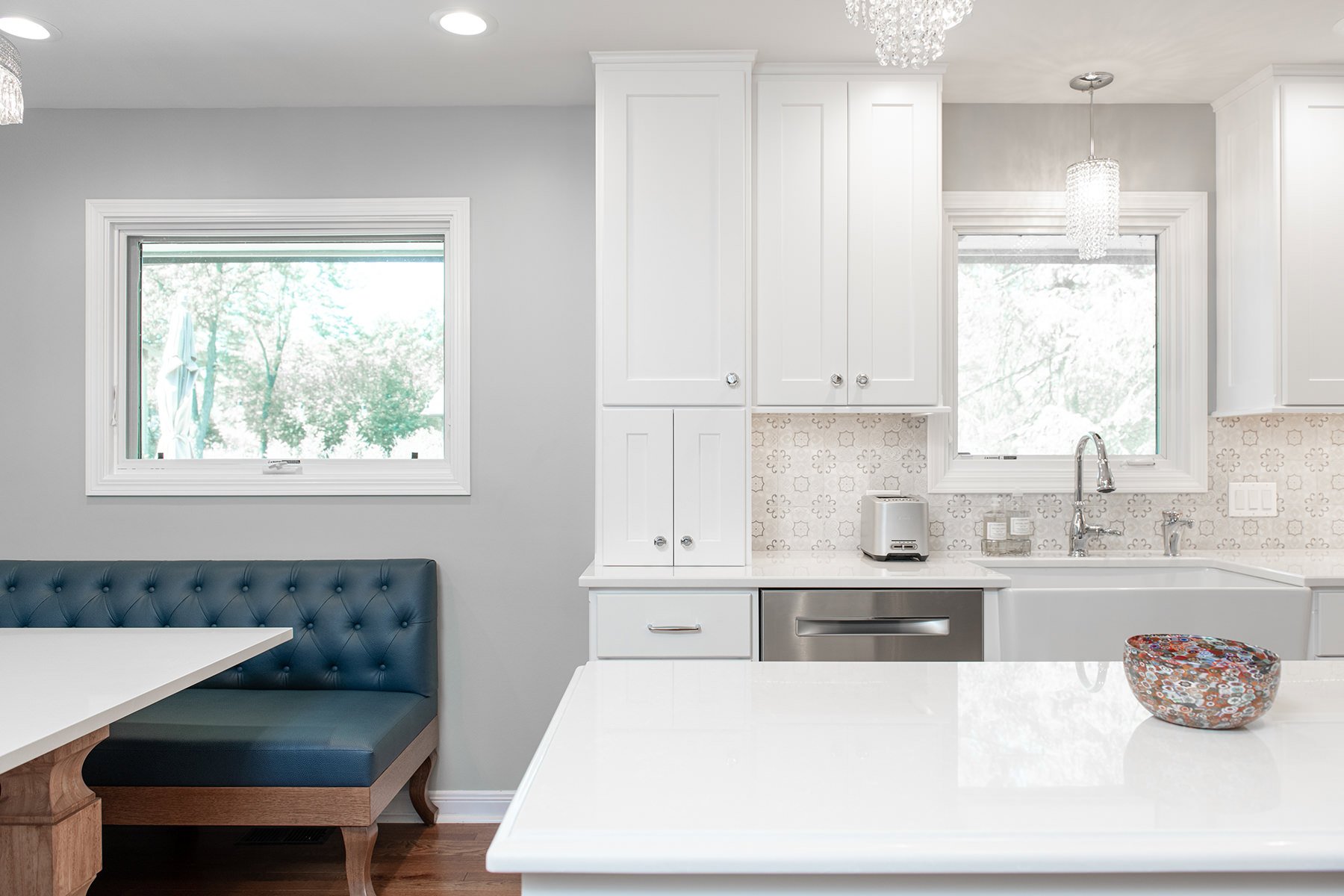 A COMPLETELY NEW KITCHEN
Since this Highland Park home had issues with layout, gutting the kitchen completely was the best route for our BDS team to take. Our BDS team created a beautiful open design layout that allowed for a more functional space for this family. The team closed in a larger window and reconfigured the size and location to allow for extended kitchen cabinets. Custom white cabinets and countertops turned this kitchen into a classic bright space, and the pattern backsplash is clean and light but adds a pop of style. The new island layout makes the perfect work space for our homeowners, and also provides additional storage and space for appliances. The BDS team also relocated the refrigerator and ovens to allow for better storage and layout. Inside all this additional storage and cabinet space, cabinet accessories were also added to help provide organization and really optimize the space for the family. A stunning custom eat-in bench was created to provide the perfect place to sit down and enjoy a meal as a family or play a card game with the neighbors. The beautiful blue seating provides a pop of color in this neutral space. We finished this remodel off with stunning new lighting, warm wood flooring, and new hardware throughout the space.
NO SPACE IS EVER HOPELESS
If your current kitchen, bathroom or basement layout just is not working for your family, call our BDS team. We are happy to help re-envision the space to better function for your needs. We love creating a dream space that our homeowners love to call home!
---