According to US News, updating kitchens and bathrooms is the best way to interest potential home buyers after general maintenance has been addressed. While kitchen remodel value can certainly be assessed based on its ability to make an entire home more attractive to potential buyers, we've also gathered concrete numbers on kitchen remodeling investments and resale values for the Chicago North Shore area. Of course, the cost recoup of a project is directly correlative to its scope, so we've divided projects into three categories: minor midrange remodels, major midrange remodels, and major upscale remodels.
Minor Midrange Kitchen Remodels
Minor midrange kitchen remodels cost $26,055 and return $19,640, or 75.4%. These numbers are based on superficial refreshments to a 200-square-foot kitchen with 30 linear feet of cabinetry. Updates consist of new, shaker-style wood panels, drawer fronts, and hardware secured onto existing cabinet boxes. Laminate countertops, a mid-priced sink and faucet, and an energy-efficient, cooktop/oven range and slide-in refrigerator are also included. Resilient flooring is installed in place of the old, wall coverings are added, and trim is repainted.
Major Midrange Kitchen Remodels
Major midrange kitchen remodels cost an average of $76,066 and return an average of $45,293, or 59.5% in the Chicago area. These figures are based on updating a 200-square-foot kitchen with 30 linear feet of semi-custom wood cabinets and a 3-by-5-foot island. Laminate countertops are installed, along with a standard, double-tub, stainless-steel sink with a single-lever faucet. A new, energy-efficient range, a ventilation system, a dishwasher, a garbage disposal, and lighting are also installed. New, resilient flooring is added, and all walls, trim, and ceilings are finished and painted.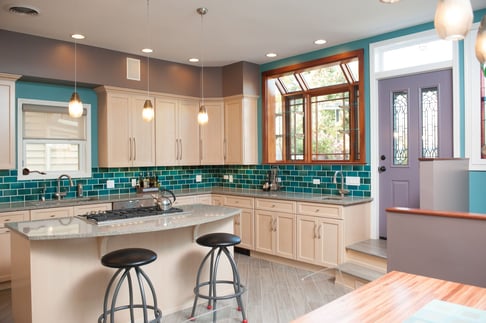 Major Upscale Kitchen Remodel
Finally, more extensive and higher-end kitchen remodels cost $144,514 and return $81,081, or 56.1%. In this remodel, a 200-square-foot kitchen with 30 linear feet of cabinetry is updated with top-of-the-line custom white cabinets with built-in sliding shelves and other interior accessories. Stone countertops with imported ceramic or glass tile backsplash compliment the new cabinets.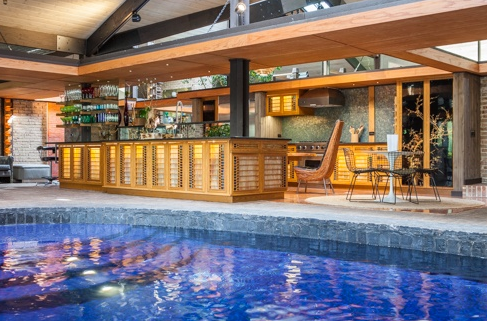 Fixtures include a built-in refrigerator, a commercial grade cooktop and vent hood, a wall oven, and a built-in microwave. A high-end, undermount sink with designer faucets and an inbuilt water filtration system are also installed. Flooring is updated with tile or wood look-alike flooring. New general and task lighting, along with low-voltage, under-cabinet lights, are also installed.
Using This Data to Plan Your Own Project
While you'll of course want to obtain a tailored quote from your own remodeler before finalizing your budget, it's important to understand your kitchen's remodel value in concrete terms so that you can invest in your home with confidence.
The figures cited here are according to the Remodeling 2018 Cost vs. Value Report (www.costvsvalue.com) for the Chicago, IL, area. (© 2018 Hanley Wood Media Inc. Complete data from the Remodeling 2018 Cost vs. Value Report can be downloaded free at www.costvsvalue.com.)