When your current layout just doesn't afford enough space, it's time to consider an addition. Chicago North Shore area home addition costs in 2018 vary widely depending on the type and size of the addition you're considering. Nevertheless, to give our clients a starting point for planning, we've assembled statistics on two of the most common types of addition projects: bathroom additions and master suite additions.
Bathroom Additions
Bathroom additions may be divided into two categories: midrange and upscale. Midrange additions, where a 6-by-8-foot bathroom is built over a crawlspace with poured concrete walls, cost an average of $55,486 and recoup $29,852, or 53.8%.
This addition includes a cultured-marble vanity with a molded sink, chrome faucets, and a mirrored medicine cabinet; a 30-by-60-inch fiberglass bathtub/shower combination with ceramic tile surrounding it and a single-lever, temperature and pressure balanced faucet; a low-profile toilet; a linen storage closet or cabinet; ceramic tile flooring; general and spot lighting and electrical wiring to code; painted trim and vinyl wallpaper.
Upscale bathroom additions, where a 100-square-foot master bathroom is added onto an existing master bedroom over a crawl space, cost an average of $100,072 and return $57,116, or 57.1%. Features include a 42-by-42-inch, neo-angle, frameless glass shower with ceramic tile walls, an accent strip, a recessed shower caddy, and body-spray fixtures; a freestanding soaker tub with high-end faucets; a compartmentalized commode with a toilet.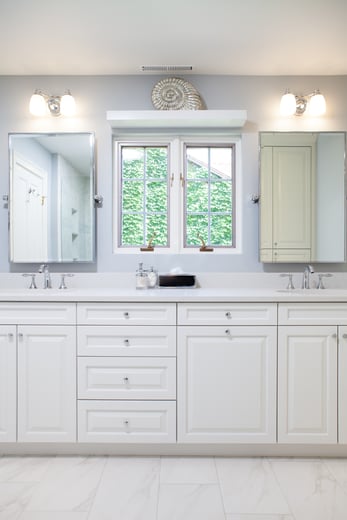 The addition also includes a stone countertop with two sinks and two mirrored medicine cabinets with lighting; cabinetry with a custom drawer base; wall cabinets; large ceramic floor tiles; an extended HVAC system with in-floor heating; and general and spot lighting throughout.
Master Suite Additions
Likewise, master suite additions may be divided into the same categories: midrange and upscale. Midrange master suites are considered as 24-by-16-foot spaces added over a crawlspace and are quoted at $146,152 with a cost recoup of $81,449, or 55.7%.
They include a main bedroom area with carpeted flooring and painted walls, ceiling, and trim; a walk-in closet adjacent to the bedroom area; and a bathroom with a freestanding soaker tub with tile, a separate 3-by-4-foot ceramic tile shower, a double-bowl vanity with a solid-surface countertop, an exhaust fan, and general and spot lighting throughout.
Upscale master suite additions in Chicago, where a 32-by-20-foot extension is added over a crawlspace, cost an average of $296,599 and recoup $146,242, or 49.3%. The spacious sleeping area with a lounging/sitting area includes custom bookcases, built-in storage spaces with millwork details, and a high-end, gas fireplace with a stone hearth and custom mantle. Next to the bedroom is a walk-in closet/dressing area with natural light, mirrors, and linen storage. French doors are also included.
The bathroom features a walk-in shower with a dual-shower system, stone walls and floor, and a custom frameless glass enclosure; a freestanding soaker bathtub; a partitioned area for a luxury, one-piece toilet; two sinks in separate custom vanities with stone countertops and large mirrors; and a 5-foot hospitality center with a bar sink, under-counter refrigerator, custom cabinetry, granite or marble countertop, and microwave. Other features include soundproofing, in-floor heating, custom wall finishes and hardware, and general and spot lighting. Find your customizable quote for bathroom additions, master suite additions, and more here.
(The figures cited here are according to the Remodeling 2018 Cost vs. Value Report [www.costvsvalue.com] for the Chicago, IL, area. [© 2018 Hanley Wood Media Inc. Complete data from the Remodeling 2018 Cost vs. Value Report can be downloaded free at www.costvsvalue.com.])