Home is where the heart is, and for most families, the kitchen is the heart of the home. It's where we gather to cook and eat meals, where we spend time with loved ones, and where we create lasting memories. Our BDS team was excited to get to work with our homeowners on this Glenview kitchen.
CREATING AN OPEN CONCEPT
This Glenview kitchen was outdated and closed off, with limited space and an inefficient layout. The BDS team wanted to create a more open and inviting space. The main objective was to create an open concept space with clear sight-lines from the kitchen. The team removed the wall between the living/dining space and the kitchen, replacing it with wood columns that are not only functional but also stylish. The result was a seamless flow from the kitchen to the rest of the house, making it easier to entertain guests and spend time with family.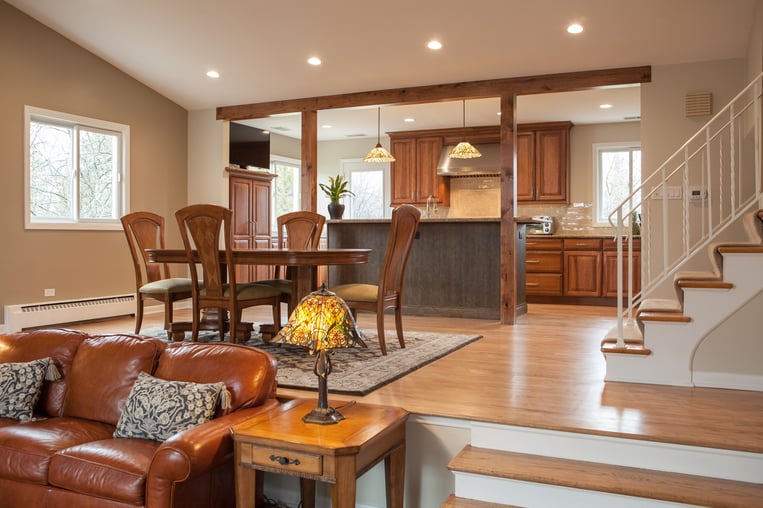 A TWO-TIERED KITCHEN ISLAND
A gorgeous feature of this kitchen remodel is the two-tiered island. This island serves as a large workspace for cooking and preparing meals, but it's also a great spot for the family to gather around and eat. It's perfect for busy mornings when everyone is grabbing a quick breakfast, or for lazy weekend brunches with family and friends.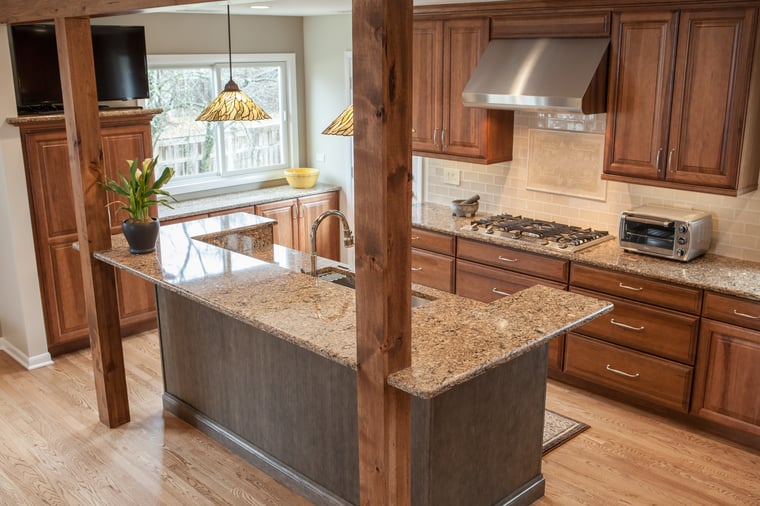 ORGANIZED AND EASY TO FIND
Of course, storage is always a concern in any kitchen, and our BDS wanted to help provide more space for our homeowners when it comes to storage. The rich wood cabinets provide ample amounts of storage for all of our kitchen gadgets, pots and pans, and more. We love that everything is organized and easy to find, without having to clutter up the counters.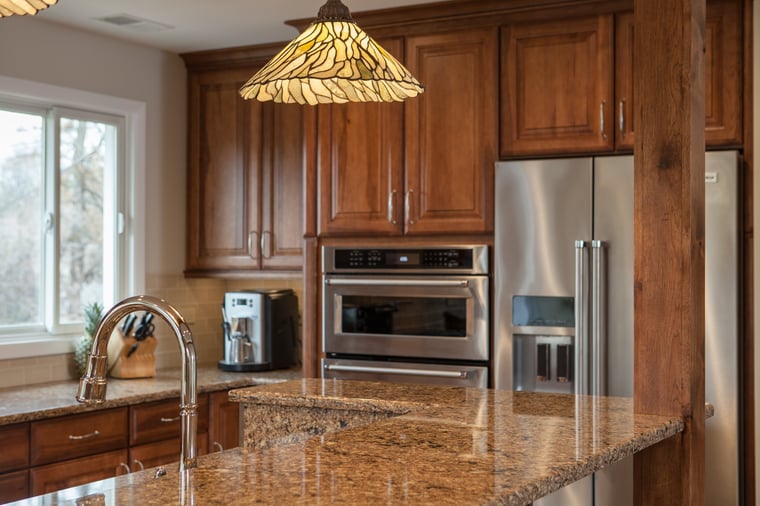 Finally, the BDS team added a new door for easy access to the deck on the back of the house. This is such a great feature for the homeowners to be able to have quick access when the weather is nice. Whether we're grilling, enjoying a meal, or just relaxing, the new door makes it simple to step outside and enjoy the fresh air.
This Glenview kitchen remodel offered creative solutions for our homeowners to be able to have a functional space for their families needs. The result is a beautiful and inviting space with classic design elements. The BDS team loves working with our homeowners to hear just what they need and helping them create a space they will love for years to come.
Call our team today to get started!
---