Needing somewhere to put that pile of coats, backpacks, and purses? A place to drop you and your family's belongings is a practical and much needed addition to any home. From purses and work bags to sports equipment and backpacks, there are always items being dropped just inside the door as family members walk in. Having an organized dedicated space to hang your coats and bags helps tame the chaos of everyday life.
The mudroom is one of the most practical spaces of a home. The purpose of this room is to create an organized functional space to help save the rest of your home from becoming a dumping ground for items that we use every day. Our team at BDS would love to help you create a mudroom in your home!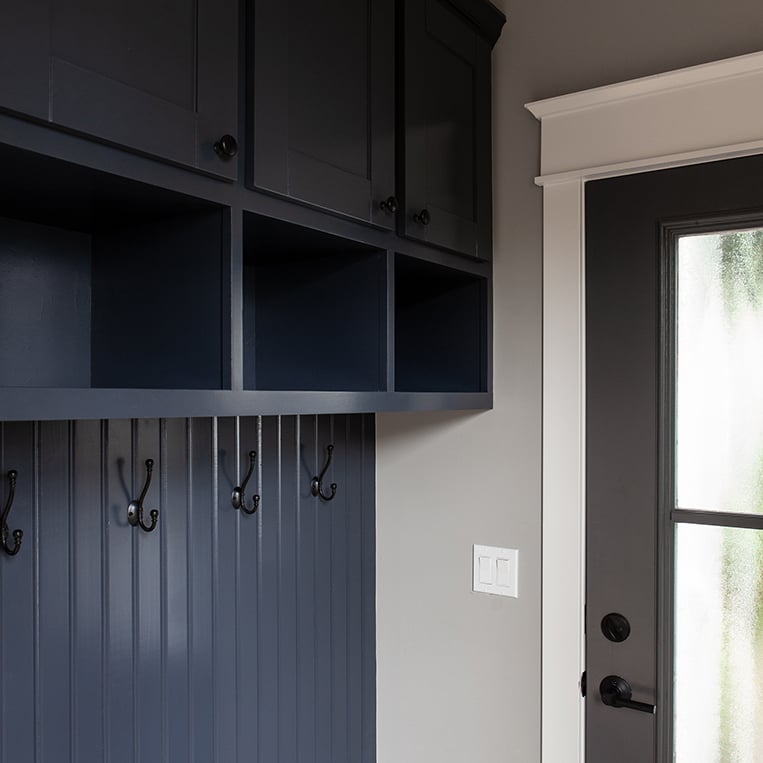 We can all search the internet and find beautiful and inspiring pictures of mudrooms, but the most important thing to remember is that this space is made to be functional for your family! Start by evaluating what your family's needs will be. Do you have sports equipment that needs to be considered, or maybe pets that you need space for a washing station or crate area. Other things to consider are how many people will be using this space so you can accommodate each person's needs. Also keep in mind the seasonal needs that your family has. If heavy coats and all the winter gear are frequently worn or umbrellas and rain boots are a part of your weekly attire, make sure to create room to hang those coats, organize the coats and mittens, and store the wet rain boots and umbrellas.
Features that are most commonly added to mudrooms are:
Hooks to hang coats, backpacks, and other bags
Storage cubbies for mittens, hats, and scarves
Bench seat
Charging stations for electronics
Durable flooring that can stand up to wet boots and dirt
Open storage bins to throw shoes or sports equipment
When you begin planning out your mudroom, start with what location of your home makes the most sense and has room. This may be located off the entrance from the garage, basement, laundry room, or even off the entrance from the front of the house. With the right planning, our team can help you figure out what space works best! Just because you don't have a large area to devote to a mudroom doesn't mean it can't work. Even a small space can create a functional laundry room. A bench seat with open space under the bench for shoes and gear, and then storage cubbies up above a row of hooks can provide just the right organization. Another important feature in a mudroom is a good flooring. Something easy to clean and can withstand the traffic and constant dumping of gear. The best way to complete your mudroom is adding your personality to the room. Design can be added with wallpaper, stylish light fixtures, and pops of color that will make your mudroom not only a functional space but a beautiful one!
Ready to get organized? Our team at BDS is ready to get your mudroom project started! Give us a call today to schedule a consultation with our team, and we will take your mudroom vision and make it reality!