Basement remodels require a fraction of the funds that home additions demand making them one of the most attractive places to add usable square footage to your home in the form of family rooms, extra bedrooms, and hobby areas. Knowing how to transform your basement, however, can be tricky. How do you design a space tailored to your specific needs? Where do you spend and where do you save? How do you ensure your basement is an attractive area to spend time?
In the heart of your home, you know your daily needs and design desires, but when it comes to your basement, it can be difficult to dramatically reimagine an area that's been left idle, under-utilized, and unserviceable for too long. Today, let's explore a Libertyville basement remodel that beautifully realizes all its renovation objectives.
Overall Objectives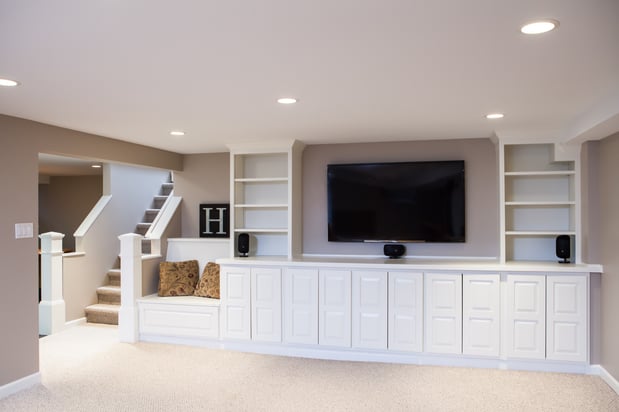 Every successful project begins with a successfully-defined vision. Our recent clients recognized that they needed more space in their home to accommodate an inviting family room, a guest bedroom, and a refinished laundry room. They wanted their new space to be simple and practical as well as elegant and inviting. With these objectives in place, we were able to design a space that suited all their needs.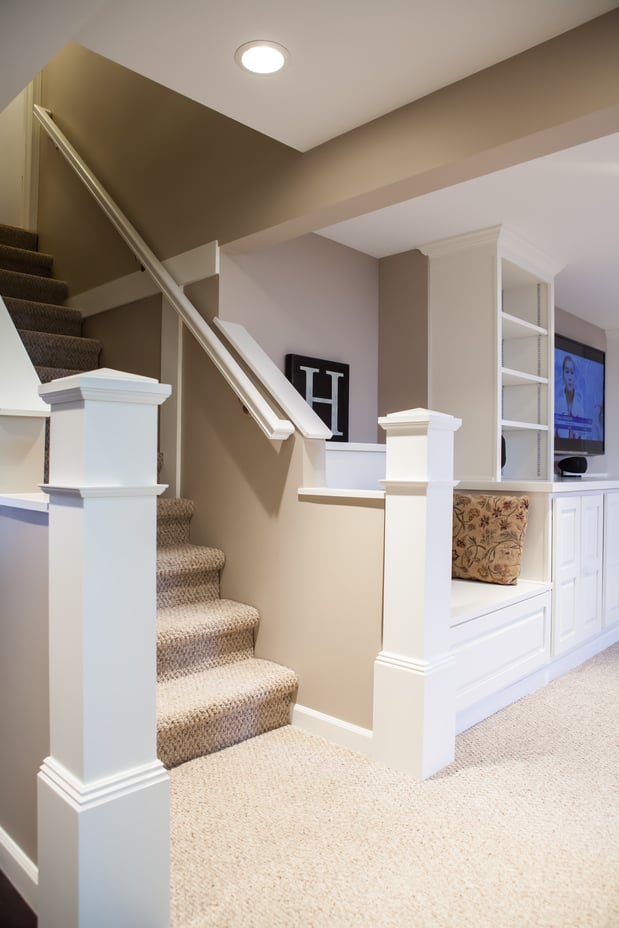 Since the basement was remodeled primarily for the family rather than their guests, we allocated the majority of the space and budget for a comfortable family room which is situated directly at the base of the stairwell. The room is cozily carpeted and furnished with several seating areas, a large-screen TV, and ample storage.
Elegant Finishes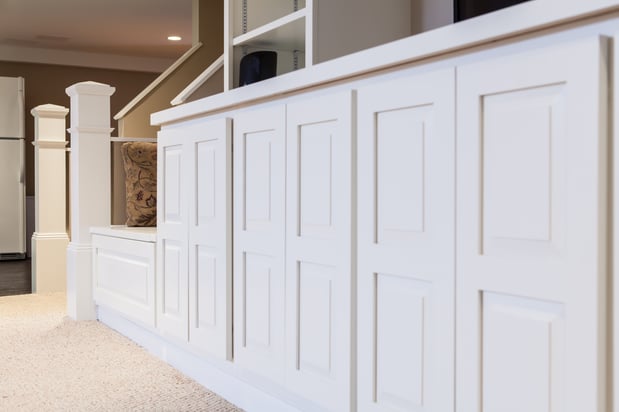 Basements are places simplicity pays. Since the remodel isn't situated in the center of your home and since basements are more easily subject to unfortunate hazards such as water damage, it's advisable to not spend most of your remodeling budget below deck. This doesn't mean, however, that your basement must be boring and unrefined.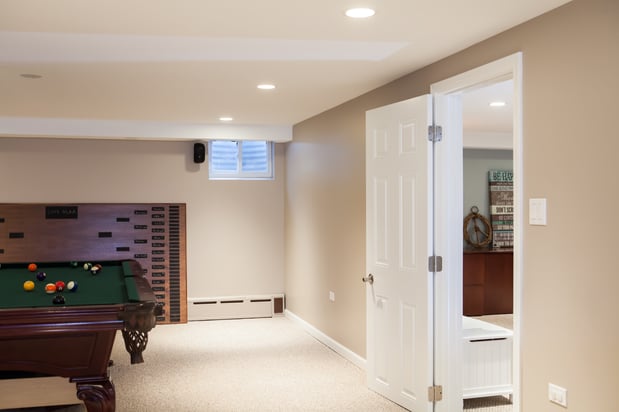 This Libertyville basement remodel, for instance, is endowed with beautifully-crafted, custom trim work throughout, including a banister and rail reminiscent of the arts and crafts movement. These finishes are complemented by an entire wall of custom cabinetry that hosts the TV, storage for movies and media, bookshelves, and a specialized, lift-up seat with even more storage below.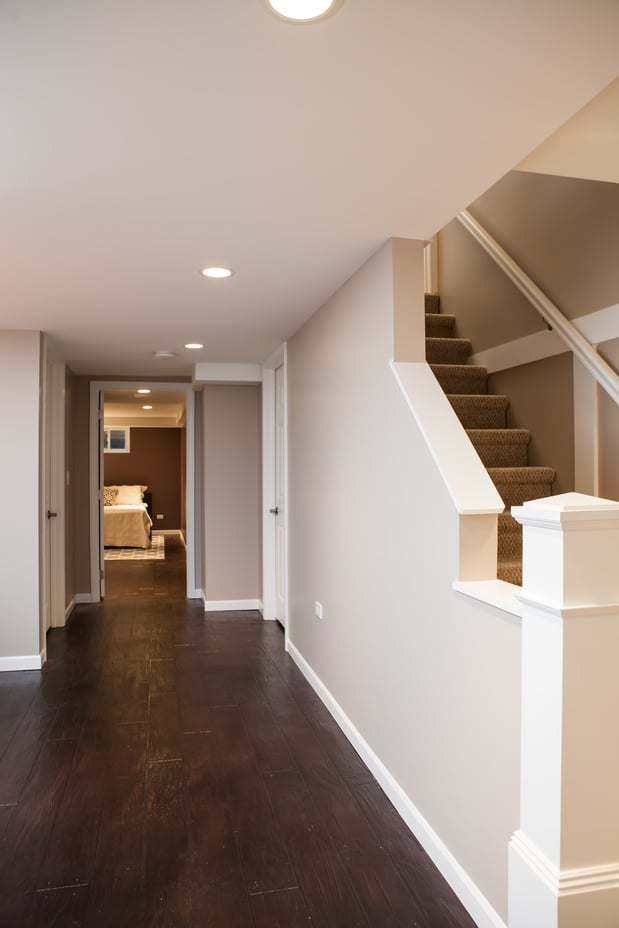 In addition to the gorgeous trim work, the client opted for rich, engineered hardwood flooring. This choice has both aesthetic and practical benefits. While its rich color and wide planks add an element of elegance to the entirety, it is also more affordable than hardwood and more resistant to water damage and more durable in general. So while the elegant finishes are few, they are well-chosen for the space and its purpose.
Introducing Light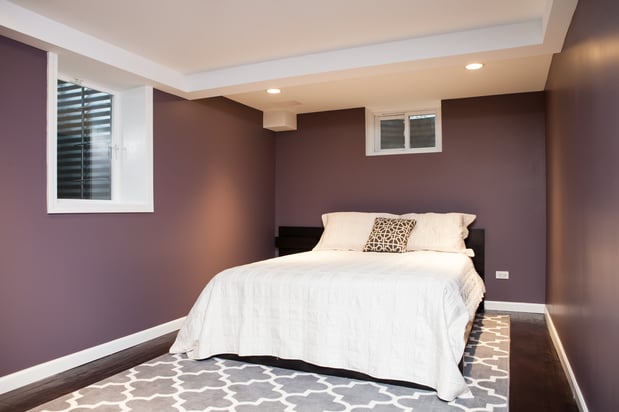 Perhaps our favorite element of this basement remodel is that it doesn't attempt too much. By prioritizing only three spaces (the family room, bedroom, and laundry room), no space ended up cramped or confined, which is supremely important in an area like a basement where lighting is limited.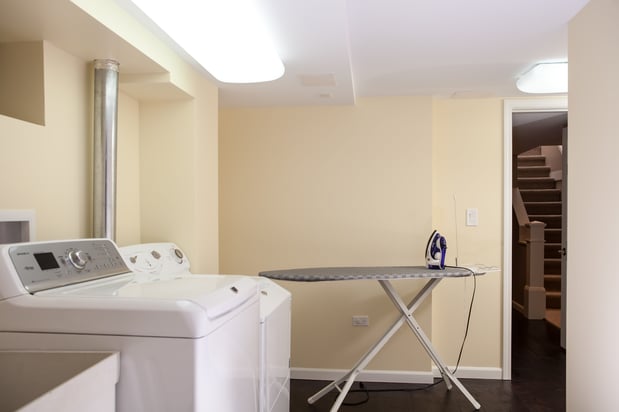 With plenty of windows, fluorescent lights, runway lights, and bright white ceilings, we introduced enough natural and aided light to get away with an earth-toned tan in the main rooms and a deep, rich, purple wall paint in the guest bedroom. Overall, this basement boasts a carefully balanced and supremely stylish design actualized with the highest-quality construction.