As children, most of us found "The Guinness Book of World Records" fascinating, particularly when the records coincided with our own ambitions and interests. Some might suppose that statistics are categorically boring, but nothing is farther from the truth when the reader has a vested interest in them. Today, we've assembled statistics that our remodeling-minded readers will appreciate: statistics on bathroom remodel costs in the Chicago North Shore area.
The figures cited here are according to https://www.remodeling.hw.net/cost-vs-value/2023/
Midrange Bathroom Remodel Costs
Your bathroom remodel cost in Chicago depends on your project goals, including size and material selection. For a midrange bathroom remodel of an existing 5-by-7-foot bathroom, the average cost of materials and labor is $24,606. This investment typically recoups 66.7%, or $16,413.
Updates include replacing all fixtures. New fixtures include a 30-by-60-inch, porcelain-on-steel bathtub with 4-by- 4-inch ceramic tile surrounding it. Features include a single-lever temperature and pressure-balanced shower control. Additional updates include a new toilet and a solid-surface vanity with an integral sink and a recessed medicine cabinet with a light. Wallpaper and ceramic tile floors are also included.
Upscale Bathroom Remodel Costs
Upscale bathroom remodels raise the stakes in both cost and outcome. For a master bathroom where a 35-square-foot bathroom is expanded to a 100-square-foot bathroom within the home's existing footprint and all fixtures are relocated, the cost amounts to $76,827 and recoups 36.7%, or $28,203.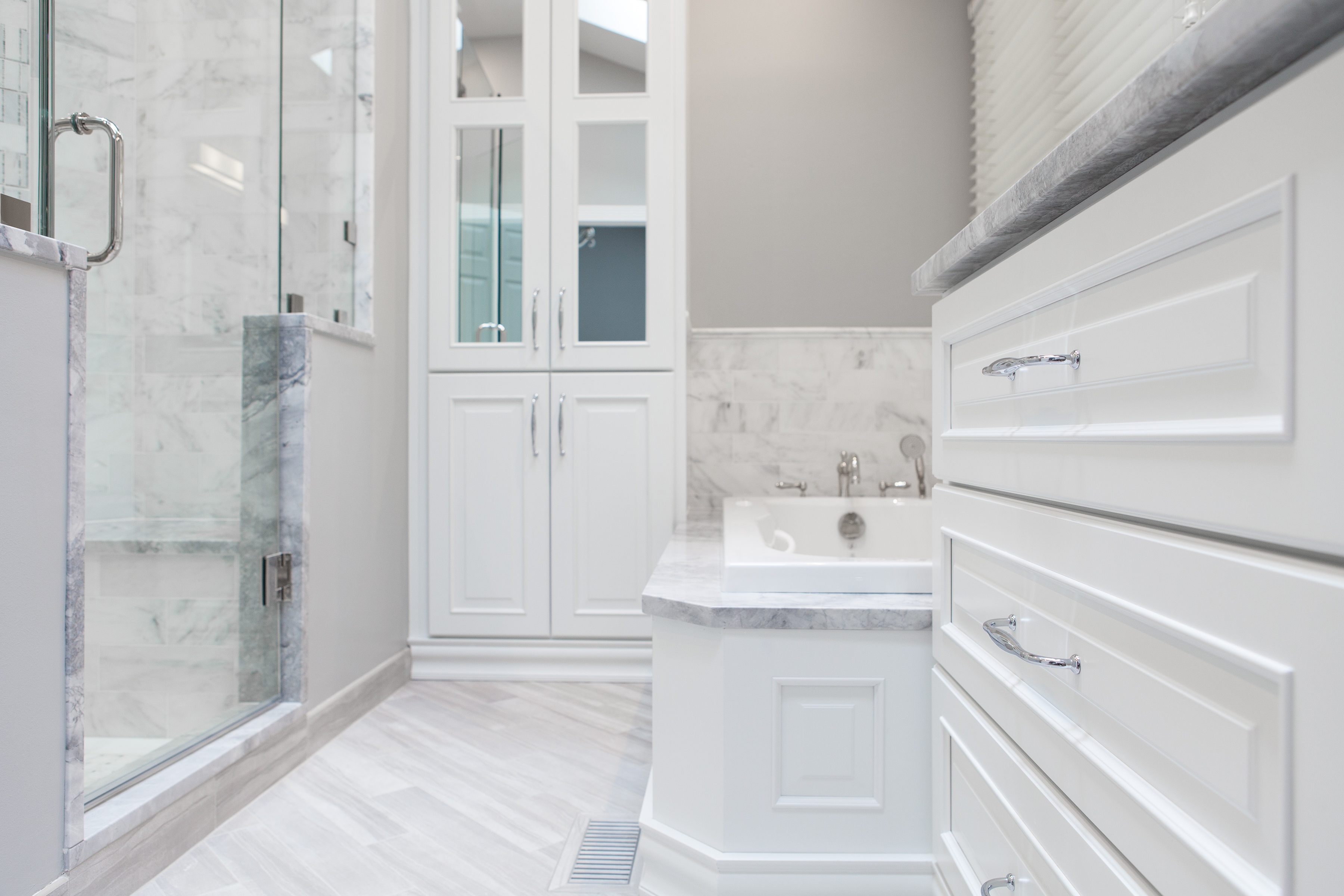 Aside from spatial expansion, updates include a new, 42-by-42-inch, neo-angle shower with ceramic tile walls, an accent strip, and a recessed shower caddy and body-spray fixtures, all within a frameless glass enclosure. A freestanding soaker bathtub with high-end faucets is also included, along with a compartmentalized commode area for a one-piece toilet.
Other updates include a stone countertop vanity with two sinks and two mirrored and lit medicine cabinets. Cabinetry with a custom drawer base and wall cabinets are installed. Large ceramic floor tiles with base molding are laid on a diagonal. Other additions include a humidistat-controlled exhaust fan, along with an extended HVAC system that includes electric, in-floor heating. General and spot lighting, including a waterproof shower fixture, is installed throughout.
Making Use of These Statistics
Of course, every home remodeling project is as unique as the home and homeowners themselves. We encourage you to use these numbers as a starting point for planning your own bathroom remodeling project, but we also encourage you to take the next step in the process by reaching out to your own remodeling company for a tailored quote.
Looking for more home remodeling costs? Check out our blog, The Cost of a Chicago Kitchen Remodel.
The figures cited here are according to https://www.remodeling.hw.net/cost-vs-value/2023/