With summer fast approaching, spring is the time to dream big. Like many of our clients, maybe you've always wanted to maximize your outdoor space but just haven't yet gotten around to it.Maybe you haven't nailed down your vision yet. Or maybe you haven't found the right company to realize that vision.
Whatever your reason for not moving forward, BDS Design Build Remodel is here to say, "It's time." Let's take a look at three recent exterior remodel projects, just in time to inspire you for spring.
The Lincoln Park Rooftop Getaway
Since expansion space in urban areas is largely limited, the practice of building "up" instead of "out" has become increasingly popular.This has led to some stunning creations, like this rooftop getaway, that are often more attractive than their single-story counterparts.
The base for the project is a new, water-resistant deck. A segment of the deck is designated as an outdoor kitchen, a cooking bar, and a carpeted sofa seating lounge, all covered to protect appliances and furniture from the elements and provide extra shade on especially sunny days.
The covered kitchen area is complemented by sun-exposed seating and eating areas, as well as chase lounges for sunbathing and a rooftop pool table for a final touch of fun. Finally, planters are strategically placed around the roof's perimeter to increase privacy.
The Barrington Main House Pool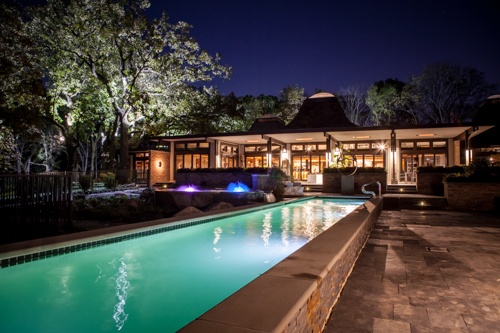 Nothing says luxury like the exterior remodeling of the Barrington main house. A series of uninterrupted glass doors and windows transitions the indoor pool and lounge area seamlessly into the outdoor patio. Just like a resort, no amenity is overlooked.
The back yard features a hot tub, a pool table, a comfortable outdoor eating area, and best of all, a decorative fountain and waterfall adjacent to a long, narrow, partially-above-ground pool perfect for swimming laps or just to add extra ambiance. To make this backyard getaway even better, everything is well and tastefully lit for extra ambiance in the evenings, including the fountain and pool.
The Lincoln Park Garden and Deck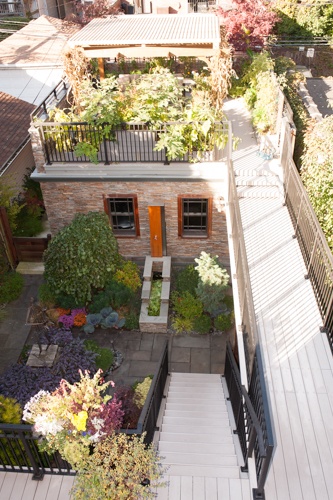 The last featured outdoor project is the Lincoln Park garden and deck. This two-story project incorporates a downstairs garden overlooked by an upstairs patio in which an outdoor eating and grill area is united to a lounge space by an elevated walkway.
The upstairs deck maintains consistency with its downstairs garden by incorporating lots of outdoor plant hangings. Even the man-made structural additions are used as supports for vine plants.