Last month, we featured a welcoming and peaceful family room that BDS converted from an outdated, indoor pool room that was turning into a safety hazard for a family with young kids. This month, our project highlights are three recent Chicago area home remodels all completed in a transitional style.
Home Addition and Remodel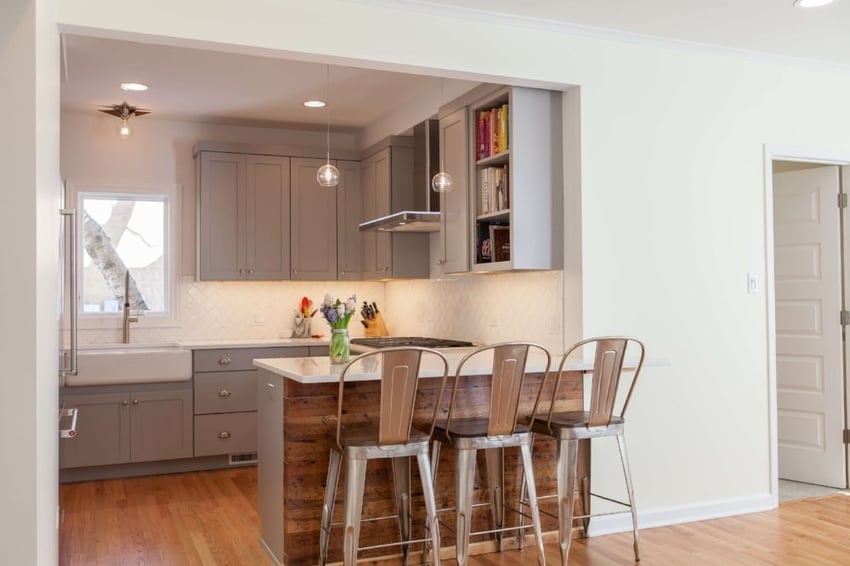 Our first home remodel, a 2017 remodel, was cramped and outdated when BDS entered the scene. With the help of BDS's in-house designer, the homeowners decided to add a new bedroom and bathroom over their first story garage and move the kitchen to the back of the garage to enable the family to grow comfortably in their new space.
The soothing gray cabinets, steel appliances, natural hardwood, metal bar stools, white counter tops, walls, and subway tiles, along with the minimalism expressed in the lighting and architectural lines, all reflect a transitional style. Interest is achieved through various textures and materials, like the island siding, as well as through the light fixtures and accessories.
Kitchen Remodel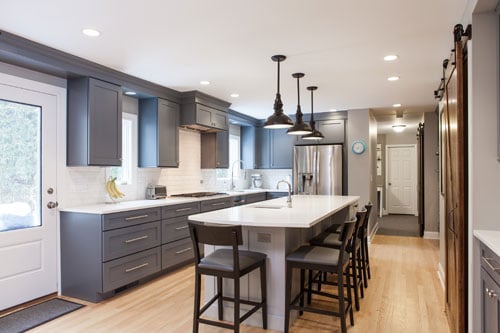 Our second highlight home is a 2016 interior renovation. When several maintenance issues arose, the homeowners decided not to stop at merely fixing functional features. Instead, they consulted with BDS to perform a large-scale remodel that would transform their problem kitchen into a gorgeously modern showroom that transitions smoothly into the adjacent living area to create a beautiful and coherent open floor plan home.
The remodeled kitchen makes excellent use of space. Plenty of lower and upper cabinets, combined with extra island cabinets, increase storage while a wrap-around overhang on the island ensures plenty of bar stool seating. The kitchen is well equipped while still maintaining clean structural lines that are echoed in the window, floor board, lighting, and overall architectural arrangement.
Transitional Addition and Remodel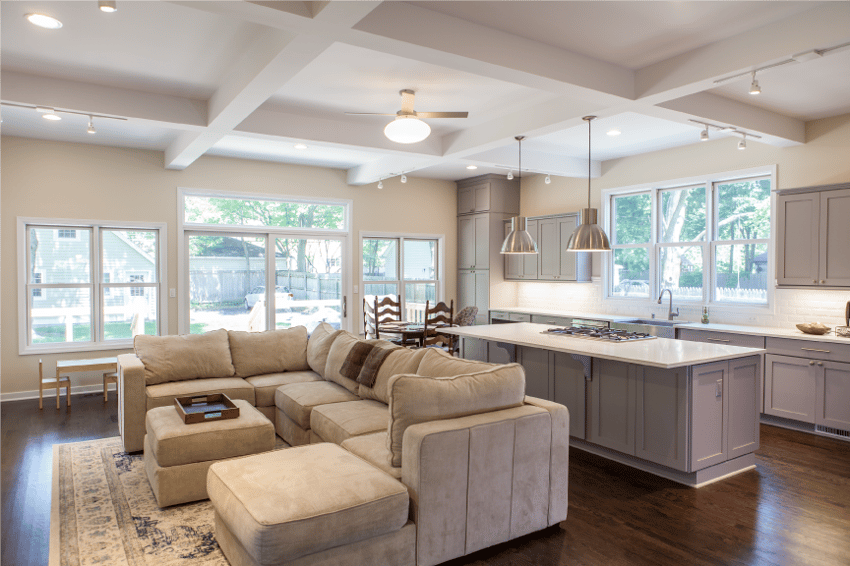 With simple lines and neutral colors balanced by a variety of textures, this Winnetka home addition and remodel are thoroughly transitional. The open floor plan, light colors, and abundant windows increase the room's spacious, orderly, and peaceful ambiance, while creative and well-executed special features like that found in the ceiling work introduce extra elements of interest.
Upstairs, BDS remodeled the master bedroom and bathroom to increase, optimize, and refresh the personal living space. The homeowners opted for a modern update that again prioritizes clean lines and unobtrusive fixtures. A new, frameless glass shower, undermount sink, minimalistic lighting, and intricate tiling were all installed to achieve a harmonious and functional private space.
Closing Thoughts
While these three recent home remodels exhibit BDS Design Build Remodel's expertise in remodeling toward a transitional look, Bryan and his team are equally well-versed in many more architectural styles and enjoy meeting with and advising Chicago North Shore area homeowners on how best to achieve their particular visions and goals for their exterior and interior remodels and home additions.