To receive one Chrysalis Award is quite an honor, but to snap up two of them is what BDS Design Build Remodel just did. We made a commitment to excellence when we first founded BDS Design Build Remodel in 2003. That commitment is reflected in every home project we take on, whether large or small, and it is a commitment that just earned us nation-wide public recognition.
Ken Kanline, Chrysalis Awards Director, selected 80 remodeling contractors from across the United States as winners of the prestigious 2017 Chrysalis Awards for Remodeling Excellence. Entries were judged on overall design, the creative use of space and materials, and the degree to which the project enhanced the original structure. How did we win two of these awards? The pictures below speak for themselves.
Best Whole House Renovation Over $750,000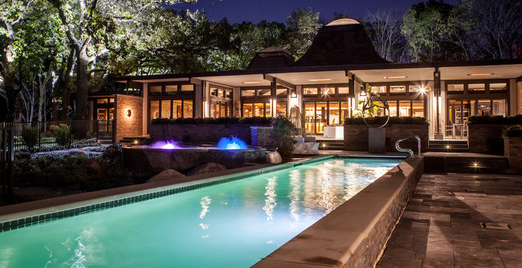 Our Barrington whole home remodel won an award for the Best Whole House Renovation Over $750,000. The renovation was inspired by our client's need to expand and modernize their master bathroom. We began by deconstructing the entire master bathroom space to the rough framing and subfloor, which allowed us to clear outdated electrical coding, install missing insulation, and repair areas subject to ice damming.
Our client opted to install custom cabinetry to best utilize and increase storage space as well as to achieve a clean and bright aesthetic where the materials themselves provide interest. Next, we built a separate commode area and replaced the outdated soaker-tub coffin with a large, open, walk-in shower. Details like the heated towel rack continue to be the client's daily favorite features.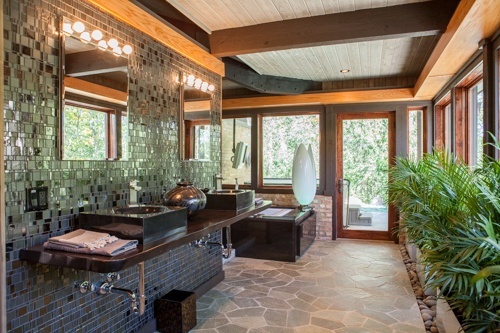 What began as a simple bathroom remodel extended into an elaborate and gorgeous whole-home remodeling project, including an addition to the main home, a remodel of the guest home and the addition of both an outdoor and an indoor pool.
Best Residential Historic Renovation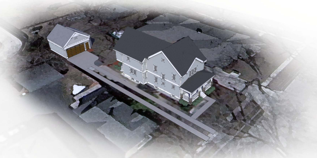 Our Libertyville, IL, whole home remodel on Bryan's own home won the Chrysalis Award for the Best Residential Historic Renovation. The project's objective was to update and expand the house as well as to build a new and larger garage without losing the character of the original 1910 structure or its fit in the historic neighborhood.
Although the main goal of the project was to build a new, 2.5 car garage with loft storage and to add a new, 2-story addition that effectively doubled the home's square footage, Bryan also took the opportunity to update the original structure by replacing all the windows, insulation, and siding.
Our biggest renovation challenge was to engineer the addition to comply with changing code requirements that mandated thicker framing on the second floor. While the obvious solution was to add steps dividing the existing structure and the new addition, Bryan wanted to preserve a continuity of design and a natural flow within the home.
In the end, he solved this dilemma by adding an engineered beam running lengthwise through the home's interior hallway to provide extra support. This played both to the home's structural advantage and to its aesthetic advantage by allowing a conduit for HVAC ductwork while architecturally designating rooms with ceiling soffits within an open floor concept.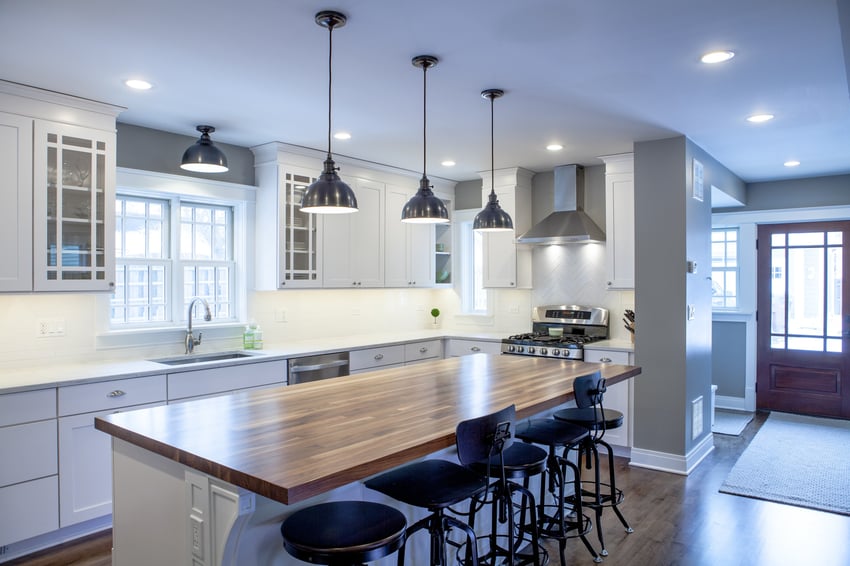 The Chrysalis Awards program was founded in 1994 to celebrate outstanding remodeling contractors, and we are proud to be part of its history. Pictures of the 2017 award-winning remodeled homes can be seen on the Chrysalis website. Best of all, you can see our Libertyville award-winning home in person on Saturday, June 10th, from 10am to 3pm at the Mainstreet Libertyville Historic Housewalk. Click here for more information.